I hope this finds you and your loved ones doing well, both mentally and physically during the COVID-19 pandemic of 2020, no matter where you are in the world. I hope you've found some projects to crochet, knit, sew, etc to keep you busy, safe and mentally healthy during this trying time in all of our lives. Since my husband retired a year ago this month, our daily routine hasn't changed that much. However, I know there are so many others whose lives have been turned upside down by this virus, the social distancing and the loss of their jobs (or the need to stay home from their usual work environment). The stress that can come during these times, even when we think we're taking good care of ourselves, can be overwhelming at times. As for myself, I sometimes have waves of "fear of the unknown", even without this current pandemic! When this happens, I often need to talk to someone (usually my husband) and pray that God will ease the fear in my heart and body. I pray that you're taking good mental and physical care of yourselves and your loved ones during this challenging time in all of our lives.

Now for some crochet "eye-candy"!

I've been staying busy with various crochet projects during the past 3-4 weeks of the COVID-19 social distancing. I'd like to share photos of 3 projects that I've crocheted during these 3-4 weeks. Since I'll be teaching the techniques of Irish Crochet and Bruges Lace Crochet at the IOLI Convention in Mesa, AZ in July (as long as it doesn't have to be cancelled due to the virus), I decided to crochet a Bruges Lace top. Here's a photo of me wearing that top: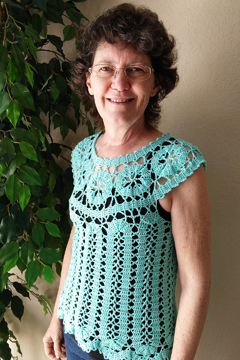 As you can see, it fits me pretty well. Bruges Lace Crochet is a wonderful technique, made with narrow rows of crochet stitches (usually dc), called "tapes". You can curve the tape around into various shapes, such as the circles in the yoke of this top and the long, narrow ovals in the body of the top. This pattern didn't come with the lowest edge that you can see in this photo. When I was done with the pattern, I decided to add that round to lengthen the top slightly.


For this top, I used some yarn that was in my stash. I purchased this 100% acrylic yarn (it looks and feels more like cotton) at the 2015 CGOA Conference in San Diego, CA from the show floor vendor, Newton's Yarn Country, located in Anaheim, CA. The pattern, called "Bruges Lace Shell", can be found in the book, "Lacework for Adventurous Crocheters", by Margaret Hubert. Amazon has the Kindle edition of this book for $11.99 here. This design is by Tatyana Mirer, who is a fabulous Bruges Lace Crochet designer! I won't be teaching anyone to crochet a Bruges Lace garment in my IOLI class, but I'll teach my students everything they need to know in the Bruges Lace Crochet technique to be able to crochet a Bruges Lace garment, if they so wish!


Here's the 2nd garment I crocheted: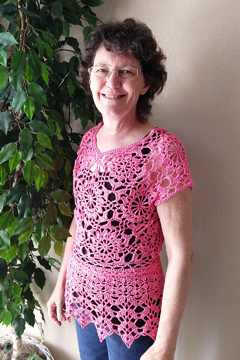 This is a wonderful design! It's called "Andromeda Peplum Vest", and is designed by the very talented Doris Chan. You can find this pattern, along with many more, in her book, "Convertible Crochet". Amazon has a Kindle edition of this book for only $7.99 here. I've had this book for 5 or more years and always meant to crochet this top, but never took the time to get started on it. Once I did, I found it a fun top to crochet! I used 9.2 oz/260 grams/6 balls of Patons Grace yarn, which is 100% cotton, for this garment. I had 9-10 skeins of this yarn leftover from editing crochet patterns for Rita Weiss and Jean Leinhauser many years ago and I've been wanting to make something with it for years! I'm very happy with how this top turned out!


Since I have a little "challenge" with gauge, I had to crochet the top part of this garment twice, once with the smaller G (4.0mm) hook and again with the larger #7 (4.5mm) hook. I tried the bodice on after crocheting all the motifs and it was somewhat snug, especially in the armholes. I knew I needed to make it larger or I wouldn't be happy with it and possibly wouldn't wear it, which would be a huge shame! I decided to rip out all the motifs and remake them (I was able to reuse most of the yarn because I could crochet the 5-sided motifs with the yarn from the 6-sided motifs without having to add more yarn, which would mean more ends to weave in!).


I learned something new with this pattern (besides getting and keeping gauge): what a "peplum" is! This top has 3 pieces: the top V-neck vest, the bottom "peplum" and the draw string that connects the two halves. I have a friend in CGOA who has made quite a few of these tops. Each one looks fabulous on her!


Here's the 3rd project I made: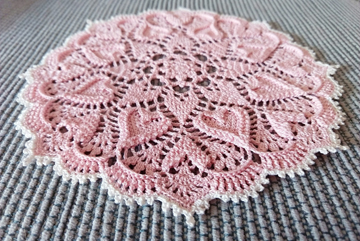 This is the "Sweetheart Soiree" doily, designed by Julia Hart of www.draiguna.com. This is a fabulous doily design with lots of texture, due to the use of post stitches. Julia doesn't just use FPdc and BPdc in this doily. She uses 2-FPdc decreases, 3-FPdc decreases, 4-FPdc decreases, special FPdc decreases, 2-FPdc clusters, as well as 3-dc clusters and 4-dc clusters! With all of these special stitches, the doily has lots of visual interest and lots of beautiful texture! Don't you agree?


I didn't find enough light pink cotton crochet thread in size 10 in my stash for this doily, so I chose some size 20 pink thread instead: DMC Cebelia in #818 Baby Pink and what I think is Ecru (I don't have the color number with this ball, so I'm just guessing at the color for it). I used a #10 (1.3mm) steel hook, also. I blocked the doily afterward to give it a nice, crisp look!


If you'd like to make one of these doilies for yourself or a loved one, you can find a pdf of the pattern for $1.00 on Ravelry here. Or you can find the pattern for free on Julia's website here.

I enjoy designing my own patterns, but I also enjoy crocheting/knitting other designers' patterns! I learn so much from making others' designs, which helps me be a better designer, too!


As you can see, I've been keeping myself busy this past month during the COVID-19 pandemic. What have you been doing to keep yourself busy while staying at home?


Happy crocheting,
Susan