Repairing a Crocheted Afghan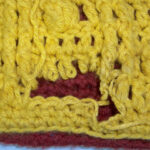 Read what I did to repair the afghan that our puppy chewed a hole in and learn to repair YOUR crochet project(s).
Decorative Slip Stitch Edging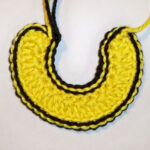 Learn how to add an easy, decorative edging to your crochet pieces in this tutorial.
Back Bump of Foundation Chain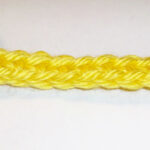 Learn how to find the back bump of the foundation chain and how to work your crochet stitches into the back bump in this tutorial.
Wiggly Crochet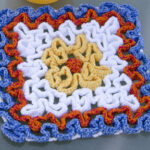 If you've been intrigued with Wiggly Crochet and would like to learn how to do it, check out this tutorial to find out how.
Stiffening Crocheted Snowflakes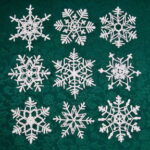 If you've crocheted some snowflakes, but don't know how to stiffen them, here's some great information to help you stiffen your snowflakes successfully. Check out this tutorial with instructions, helpful hints and photos.
Slip Knot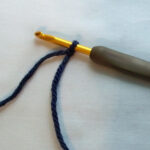 Have you ever wondered if you're making your slip knot correctly or not? Do you have trouble closing the hole in the center of your crochet motifs? Then check out this tutorial with instructions and photos on how to make a slip knot correctly.
 Dyeing Yarn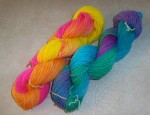 I had a blast dyeing some wool yarn with Easter Egg dyes. Check out this tutorial and story to find out how I did it. You'll really enjoy dyeing your own wool yarn once you know how!