I've been keeping very busy with various projects during the first 3 months of COVID-19. If you're anything like me, you've completed lots of crochet projects, too! But that's not all I've been doing.


Since my husband retired last year and has more time on his hands in retirement, we figured it was time that I got started on one of my business goals/dreams! So without further ado, here's my big announcement!


I've started a YouTube crochet channel!!!


I've wanted to do this for many years, but I'm not very "tech savvy"! However, my husband is! He's got so much more knowledge and patience than me with anything electronic! I have plenty of patience with other things, like crochet and teaching, but NOT with electronics and tech things!


Starting my YouTube channel has not been without it's challenges! We've had all kinds of issues with the audio and have put in countless hours to try to correct it. It's sometimes still an issue, but we're improving all the time. The lighting hasn't been as much of a challenge because we already had the lighting for photographing my crochet patterns.


Three months ago, we took apart our guest bedroom and converted it into our video studio. Here's a look at our new studio: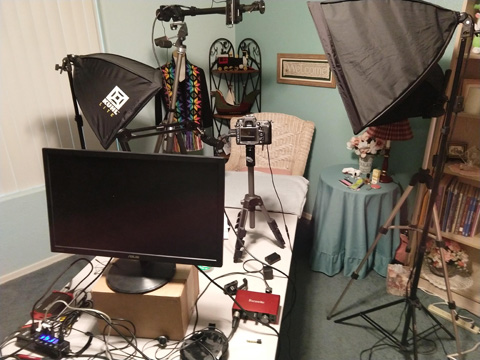 I've got a handful of videos published on my YouTube channel right now and dozens/hundreds of ideas for lots more videos to help YOU be successful with your crochet projects! Right now, I have videos for absolute beginners, from how to hold the hook and yarn to how to make the basic stitches and your first crochet project. I'll be doing videos on lots of crochet techniques and stitches, as well as videos to support my self-published crochet patterns. I love lots of fabulous crochet techniques, but trying to explain how to do them in a written pattern can be challenging. Having videos to accompany my written patterns will be very helpful to explain and demonstrate the more complex parts of the patterns.


I've been teaching crochet for 15 years now and I learn a lot from my students, which helps me be a better teacher. I learn how things can be interpreted differently by others and how I can explain things better to my students.


Here's the link to my YouTube channel.


If you'd like to check out my YouTube crochet videos and subscribe to my channel, that would be wonderful! Please let me know what type of crochet videos you'd like to watch to help you learn the stitches and techniques that interest you. My goal is to help you in your crochet journey so that you enjoy crochet more every day!


Every good venture needs a mascot, right? Well, here's our mascot, Maggie, who usually lays down either under the side table covering or behind my chair while we're working on videos. She just loves being with us and is so quiet in the video room! She's come a long way since we brought her home almost 5 years ago! She used to chew a lot of things and very rarely does she chew anything of ours now.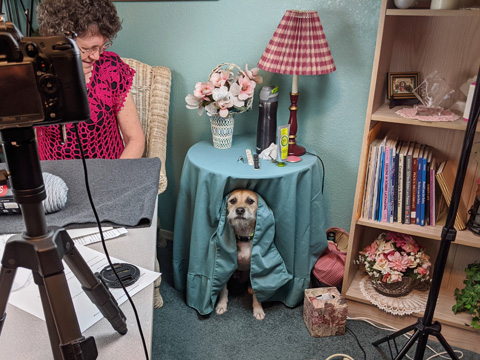 I hope you've enjoyed this look at my new YouTube channel and will take a look at my videos to help you be successful and increase your crochet knowledge and skills.


Happy crocheting,
Susan