If you're a beginner crocheter (or just like to crochet quick, easy projects), I have a FREE beginner coaster pattern, along with 2 YouTube videos for you. This coaster is an easy, beginner pattern that anyone can successfully make. In the 2 videos, I teach you how to do the center of the coaster in rows of single crochet. I also teach you to add any of the 4 edging options to your coasters: 1 round of sc, 3 rounds of sc, corner beads and tassels or side fringe. Here's a look at the coasters in the video: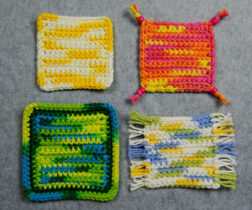 As you can see, you can make your coasters in any colors you like. I've chosen different colors for the coasters in this FREE pattern to make each of these 4 different coaster finishes distinct! However, I made a set of coasters for our home in colors that coordinate with our living room.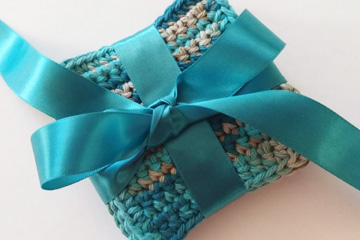 These coasters make great gifts and are very economical to make. One skein of yarn, that costs around $2 – $3, is all you need to make a set of 4 coasters.


You can find the 2 new FREE YouTube videos on my YouTube crochet channel. And you can find the link for the FREE pdf pattern download on my Free Patterns page.


I hope you'll give these easy, beginner coasters a try. Please let me know if you like this coaster pattern and if you have any questions about the pattern, please don't hesitate to ask. I'd love to see photos of your finished projects!


Happy crocheting,
Susan