It's finally done! If you've enjoyed making (or have thought about purchasing) my Faux Tatted Necklace pattern, you might be interested to learn that I just self-published a pattern for a whole set of jewelry (necklace, bracelet and earrings). If you're wondering why I call this "Faux" Tatting, it's because it isn't tatted. It's crocheted to look like tatting! The only stitches used are chains, slip stitches and single crochet. The pattern is easy to follow, includes step-by-step photos and a symbol chart for the necklace (once you've made the necklace, the bracelet and earrings are a piece of cake!). Each of these jewelry pieces is crocheted with size 10 cotton crochet thread (for all of us "threadies"), using any buttons, beads or charms you desire.
I designed the bracelet and earrings for this set last summer before the CGOA Conference in Manchester, where I taught a class on making the Faux Tatted Necklace. But in my usual "procrastinating" style, it's taken me this long to self-publish it! In my defense, though, I'm busy with other crochet work, I'm a perfectionist and I may possibly have ADD because I get distracted very easily (just ask my husband)!!! Aren't all creative people like that (or many of them)?
Focus, Susan! Back to the jewelry set. I just love making these necklaces! It only takes a few hours to make each one, so I have less chance of getting distracted! Now I can crochet the matching bracelet and earrings for each of the necklaces I've made for a complete set (my ears won't be bare any more). And now YOU can have coordinating sets, too!!!
Here are some close-up photos of the bracelet and earrings for you to see: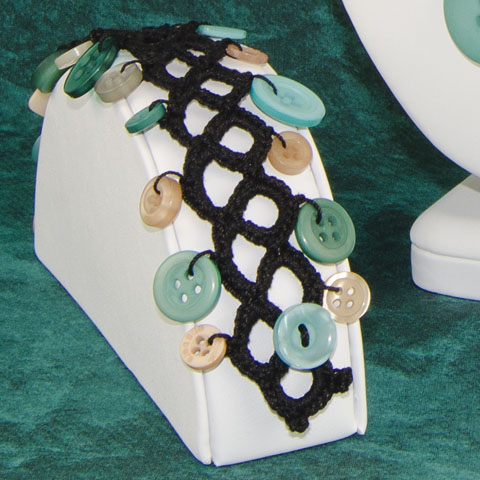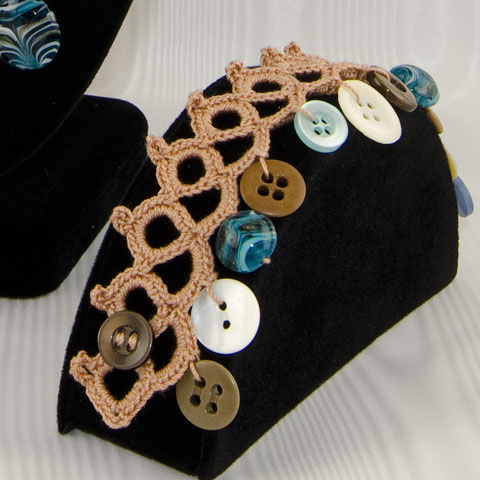 The bracelet pattern includes instructions for buttons/beads/charms on 1 side (in the brown/blue bracelet photo) or on 2 sides (in the black/green bracelet photo). The bracelet uses 12 or 23 buttons, beads or charms. The earrings have just 1 button on each of them and use earring wires (or your favorite earring findings).
I hope you enjoy this new pattern. And I hope you'll share photos of your Faux Tatted Jewelry Sets with all of us.
Happy crocheting,
Susan