Who doesn't LOVE babies? And if you're a crocheter, I'm sure you love crocheting for babies as much as I do (or maybe even more)! My 3 sons are all grown up and I'm looking forward to having some grandchildren in the near future (hint, hint!). When my grandchildren start to arrive, you can bet that I'll be crocheting baby hats, blankets, booties and outfits for them! But for now, I continue to crochet other things and once in a while I sneak in a baby project for a relative's or friend's new baby!
I'm pleased to review Tammy Hildebrand's brand new book, "Crochet for Baby All Year" by Stackpole Books. It's 120 pages long and retails for $21.95 in the US ($25.95 in Canada). You can see all the projects in the book here.
This book is fabulous!!! It's full of outfits for babies from birth up to 18 months. There are 20 designs in the book with 1-2 different outfits for boys and girls during every month of the year. The photos are adorable, as are the outfits and the babies in them! Tammy even used her granddaughter, Willow, as one of the models! How cool is that?
Here are a few of my favorite outfits and photos in the book: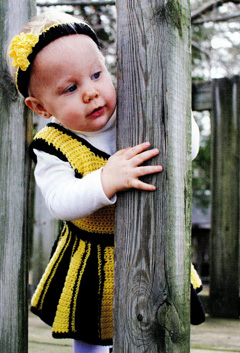 This is the "Varsity Cheerleader Dress & Headband" that is pictured on the front cover of the book. This is a different photo of that dress and I think it's just "priceless"!!!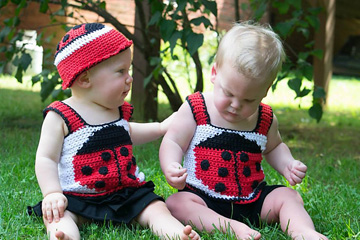 This is the "Scarlet Beetle Tank Top & Hat". You can see that Tammy designed this set to be worn by a boy or girl. I think it's adorable!!!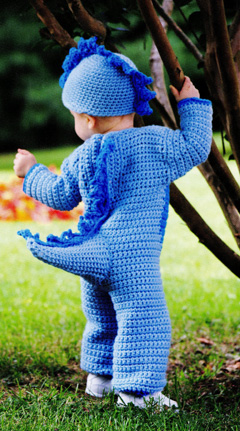 This is the "Stanley the Stegosaurus Costume". What little baby boy wouldn't love to wear this for Halloween or any time of the year? There's a pink dinosaur costume named "Stella" for a baby girl, too.
As you can see, there are some absolutely adorable baby outfits in this book! I hope you'll take a look at this book at your local craft store or online and consider adding it to your crochet library soon. We can never have too many crochet books, just like yarn, right?
To celebrate Tammy's new baby book, I'm giving away a free copy to one lucky winner (in the US only, please). Just leave a comment on this blog post to enter the contest. You'll need to be a registered user on this site in order to leave a comment. To do that, just go to the "Login" tab at the top of the page, then to "Register" in the drop down menu. Fill out the form and submit it. I don't do anything with your registration. It's just a layer of protection to help cut down on "spam" comments on my blog. If you'd like to follow my blog and receive an e-mail when a new blog post is published, then please subscribe to my blog.
I'll pick the winner of Tammy's baby book on July 17th and will post the winner's name here.
Good luck everyone!
Happy crocheting,
Susan