It's that time of year again: the time we celebrate all things crochet with National Crochet Month (NatCroMo) during the month of March. Crochet is so good for our emotional health! It's relaxing, it can be challenging (if we push ourselves and learn something new), it results in some great gifts for family and friends, plus it can bring like-minded people together to encourage each other and learn from each other. I've met so many friendly, encouraging people throughout the 40+ years I've been crocheting, especially in the past 16 years that I've been a Crochet Guild of America (CGOA) member. If you've never heard of CGOA, check out their website. You'll be glad you did!
National Crochet Month seems to grow each year! This year, there will be designer blog tours, crochet-a-longs (CALs) and all kinds of crochet celebrations throughout the month of March. To help celebrate National Crochet Month, I'm offering a 25% discount on all of my patterns here on my website, along with in my Ravelry shop. Just use the code "NatCroMo2019" in either shop to enjoy the discount! The 25% discount is good on all of my crochet patterns and ebooks (plus my knitting patterns in my Ravelry shop). The discount is good from March 1-31, 2019 (Arizona time).
How do you celebrate National Crochet Month? Do you follow designer blog tours? Do you take part in crochet-a-longs? Do you learn a new crochet technique? Do you buy more yarn (who needs an excuse to buy more yarn, though)?
How many crochet projects do you make each year? I made dozens of crochet projects this past year and I learned a few new techniques (maybe not totally new, but new to me). In June of 2018, I learned to do Planned Pooling. If you've never heard of it, you can watch some videos by Marly Bird on Youtube. Planned Pooling is a very different technique. Most patterns are written for the moss stitch (sc, ch 1), but I used groups of 3 dc in my project. In planned pooling, it's not the size/gauge of each stitch that's important, it's the number of stitches in each color and their placement that matters. Here's a photo of the planned pooling afghan that I made in a month from 9 skeins of Caron Simply Soft yarn: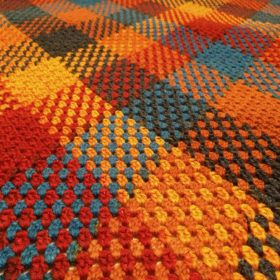 I also learned to do corner to corner crochet (aka: C2C). I tech edited a few C2C patterns years ago, but I never actually did this technique until January of this year! When I saw some photos of an adorable Grinch Scarf on Pinterest, I knew the time was right to learn this technique and make the scarf, since I LOVE the movie "The Grinch"! Here's a photo of that scarf for you to see: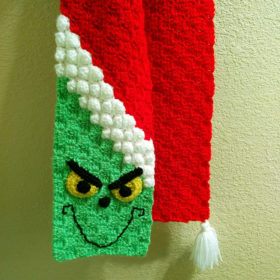 Last year, my 2nd grandchild was born in September. His name is Ryker. Here he is wearing one of the many hats that I crocheted for him:
I crocheted lots of baby booties for him, too! Here are a few of them: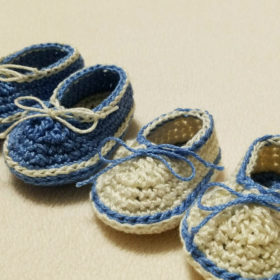 I also crocheted a top from a Chinese crochet pattern from April – June of last year. I love following foreign crochet patterns (I don't read the language, I just follow the symbol crochet charts). This one has a gorgeous pineapple yoke and hem. Here's that top for you to see: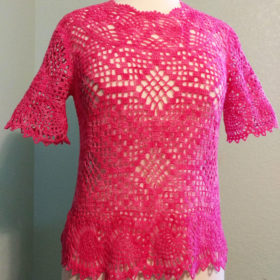 These are only some of the projects I crocheted (or knitted) last year. To see all of them and get some ideas for your next crochet project, check out my Ravelry projects page.
I hope you find many enjoyable ways to celebrate National Crochet Month! If you haven't already downloaded my FREE crochet patterns, you can find them here. If you like what you see in these free patterns, you may choose to use the 25% discount on my other patterns for sale this month!
Happy crocheting (and knitting)!
Susan