Happy New Year to all of you! I hope you had a wonderful 2019 and are looking forward to a great 2020!

What kind of New Year's resolutions do you have for this year? I'm resolving to self-publish more patterns this year than I did last year. Last year I self-published 4 designs: Scarfie, Cowlie & Hattie; Sassy Stripes Baby Blanket (knit); Polish Stars Potholder; It Takes All Colors Snowflakes Afghan. But that's more than the previous year when I didn't self-publish ANY designs! However, I was working hard on my 2 Annie's videos in 2018 (Crochet ER: Fixing Damage & Mistakes and Learn Filet Crochet), so self-publishing took a back seat that year! If you'd like to take a look at my new Annie's videos, you can find the Crochet ER video here and the Filet Crochet video here.

I have a stockpile of crochet and knit designs that I've designed over the past 5 years and they're beginning to get out of hand! So my biggest New Year's resolution is to self-publish a good amount of those patterns this year (and over the next few years, as well!). I like to make sure my patterns are as clear as they can be before publishing them, so I don't like to rush things! And I also get distracted with other things along the way (are any of you like that or is it just me?)!

A year or two ago, I came up with a new twist on a crochet technique and I'm eager to release a few patterns using that new technique twist to the public so you can enjoy this new twist, too!

Did you learn any crochet techniques last year? Are there any crochet techniques that you'd like to learn this year? I love learning new techniques/skills and passing along what I've learned along the way to the students in my classes, whether that's in person or through videos!

I'm very excited to announce that I'll be teaching 2 crochet techniques at the annual IOLI Convention (International Organization of Lace, Inc) in Mesa, AZ in July of this year! I'll be teaching a 12-hour class on Irish Crochet and another 12-hour class on Bruges Lace Crochet! I'll also be teaching two 6-hour classes on Irish Crochet. This all takes place the week of July 19 – 25, 2020. For more information about this convention, check out the IOLI website here. There are lots of teachers and lace techniques being taught. It's going to be a fantastic convention!

Here are photos of the projects in my 12-hour Irish Crochet and Bruges Lace Crochet classes at the IOLI Convention: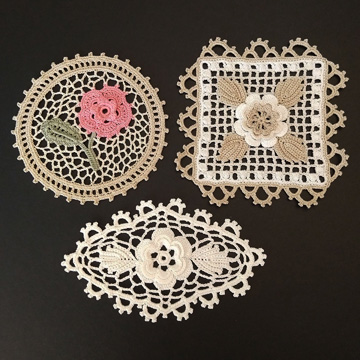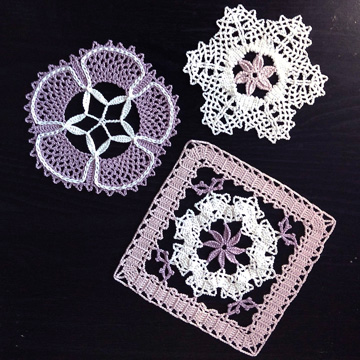 Here is a direct link to my 12-hour Irish Crochet class. And here is a direct link to my 12-hour Bruges Lace Crochet class.


Since I learned to do bobbin lace 2 years ago this month, I've been even more fascinated with all kinds of lace techniques: crochet, knit, bobbin lace and more! I've gone to a couple of Lace Days that the IOLI Lacey Ladies Guild puts on in Phoenix, AZ and I've just begun to learn a needle lace technique called Aemilia Ars. This is my first attempt at making that lace: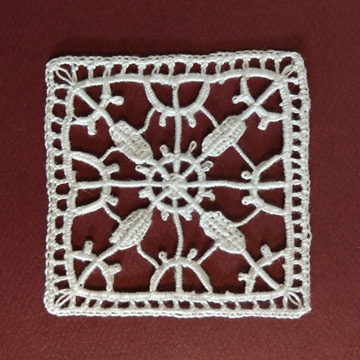 It's by no means perfect, but it's a start! I have a long way to go in improving my needle lace skills, but at least I've made the initial jump into learning how to do this gorgeous lace technique! It's challenging to learn a new skill or technique, but it's a great way to keep our brains active!

I hope you all have a great year learning new things and improving your skills. I look forward to meeting some of you at the IOLI Convention in July!


Happy crocheting and lace making!
Susan