I'm pleased to announce that I've just self-published my "It Takes All Colors Snowflakes Afghan" pattern! This pattern was previously published on the Mainly Crochet magazine website, but that website is shutting down by the end of this year. So I thought it was high time that I made this pattern available as a single PDF download, not as part of a subscription.


So without further ado, here's a picture of this colorful afghan: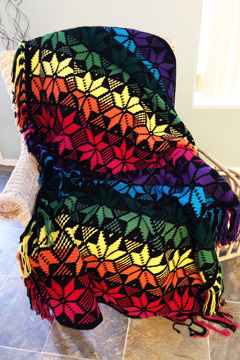 I LOVE the colors in this afghan and the design (I'm partial to snowflakes and snowmen)! I designed this afghan after a knit sweater that I had in my wardrobe with these colorful snowflakes on it.


This afghan is made with rows of single crochet, mostly in the back loop. There are color changes in most of the rows to form the snowflakes. Since all of the rows are worked on the right side and there are so many ends because of this, I decided that it would be best to turn the ends into fringe instead of weaving them in, which would distort the edges (there are 2 ends/tails at the beginning and 2 ends/tails at the end of each row).


This pattern is both written and charted. I have included some step-by-step photos of several aspects of the pattern, which you can read about on the pattern page.


If you'd like to check out this pattern, here's the link to the pattern page. This pattern is available for $5.95 and would make a great addition to any holiday celebration (or just to use to help you stay warm)!

To celebrate the release of this pattern, I'm offering a 25% discount on this pattern from Nov. 14 – midnight, Nov. 16, 2019 with the code "snowflakes". The code is only valid here on my website. Since I live in Arizona, it's for Arizona time, which is 2 hours behind New York and 1 hour ahead of California (at this time of year).

If you like the looks of this snowflake afghan, but don't want to commit to a large project like this, my Stained Glass Snowflake Scarf is made in the same technique and takes a fraction of the time to make!


Happy crocheting,
Susan