My hubby and I had so much fun on our trip to Japan last month! When our youngest son told us that he was going to be in Japan for 3 months for his work, we decided to take a trip to Japan, as well. We just couldn't pass up that opportunity, especially since we could spend time with our son and have him as a bit of a "tour guide" to help us some days (when he didn't have to work)! After the 10-hour flight to Tokyo, we took the shinkansen (the bullet train) to Kyoto that same day. We spent 4 days in Kyoto, then took the shinkansen back to Tokyo, where we spent another 7 days. The trains in Japan are very comfortable to ride. Everyone has their own seat and the seats rotate 180 degrees so 4-6 people can face each other. I never got a good photo of the bullet train when it came into the station, but here's a photo of a bullet train in the railway museum in Kyoto, where we went one day: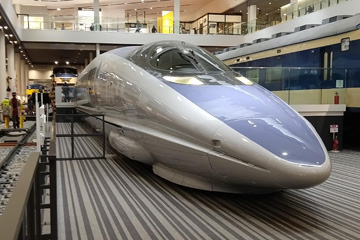 As you can see, the bullet trains (aka: shinkansen) are very sleek and stylish!
Here are the highlights from our trip (in no particular order):
Besides touring the Nihon Vogue facilities in Tokyo (which I blogged about several weeks ago), our day in Arashiyama, outside of Kyoto, was the next best thing during the whole trip (it was also what we did the first full day we were there)! We rented kimonos and rode in rickshaws! How cool is that? We saw the monkeys in Arashiyama and the bamboo forest, as well. What a fun day!!!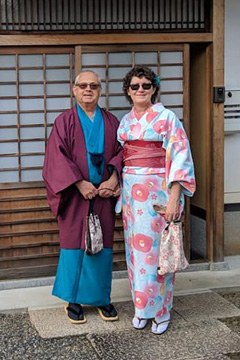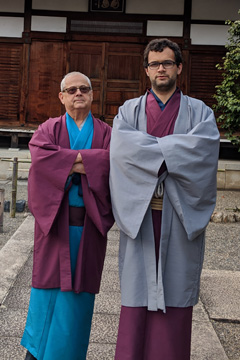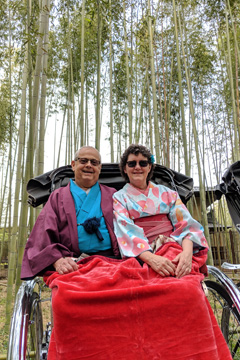 Another fun thing we did was go to the Toyota Commemorative Museum in Nagoya (on the way back to Tokyo). I thought the museum was only going to have Toyota cars, but I was pleasantly surprised to find a lot of the museum was dedicated to spinning and weaving! Wow! They showed the history of spinning with spinning wheels and lots of spinning machines. They had a ton of weaving machines, as well. It was all so interesting!!! In fact, I decided to look at the spinning and weaving displays/demonstrations again while my husband and son looked at the part of the museum with the cars!
I was fascinated by this manual spinning wheel for spinning yarn/cotton directly onto a drop spindle! I've never seen anything like this before and I think it would make drop spindle spinning much faster!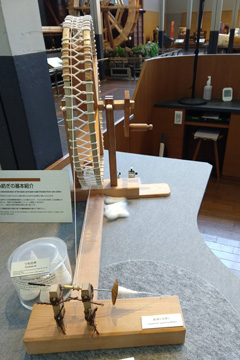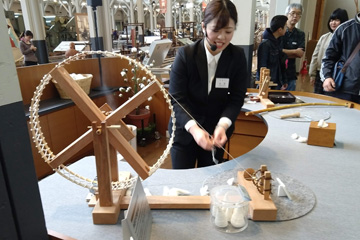 This is a portion of one of the yarn/thread spinning machines. They had so many machines on display and demonstrated many of them.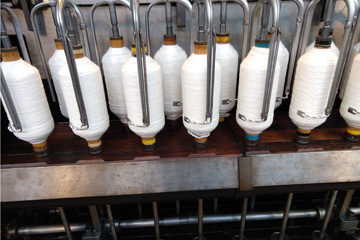 This machine wove intricate tapestries very fast! It was amazing!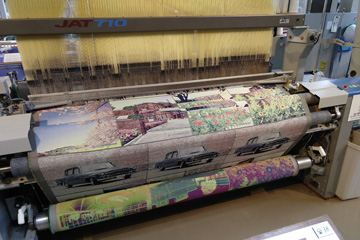 There were way too many spinning and weaving machines for me to show you. This was a VERY fascinating museum to see!
We took a day trip from Tokyo to Hakone, where I saw Mt. Fuji for the first time! My husband had been to Japan while he was in the US Navy back in the 70's, so he had already seen Mt. Fuji. Hakone was a wonderful place! We rode the cable cars, the rope cars and the pirate ship. If you're not familiar with the term "rope car", it's another name for an aerial tram that takes you to the top of a mountain. Here are some photos from that day: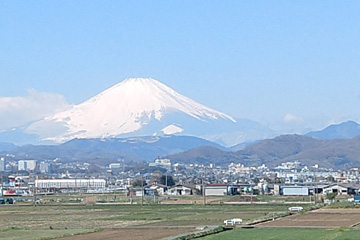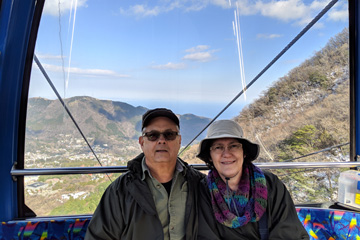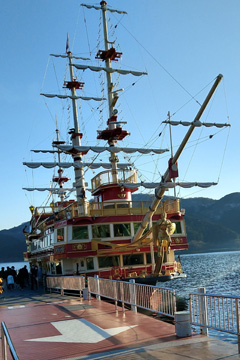 We saw some other interesting and fascinating things in Japan, too.
One day my husband and I went to the Omiya Bonsai Art Museum in Saitama (Tokyo). It was amazing to see the bonsai they had there! They had an inside museum with lots of information about bonsai. An English-speaking woman gave us a tour that was great! And we got to see all the bonsai on display outside. They were so interesting and beautiful! These are a few of them, along with a view of the outside display area: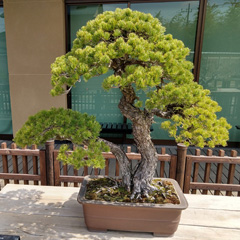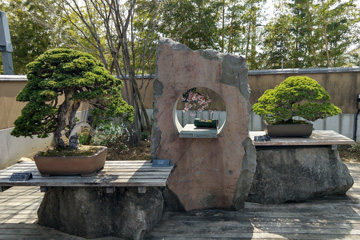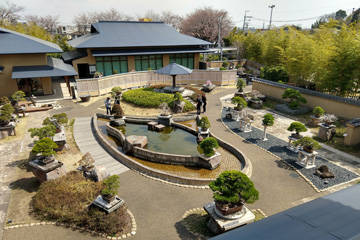 We saw lots of beautiful views from the Tokyo Metropolitan Building observation deck and from the 38th or 39th floor of the building where our son was working in the Ebisu area of Tokyo!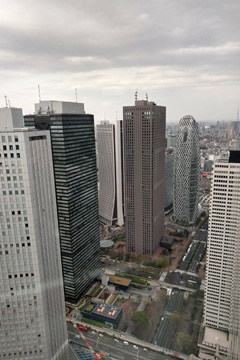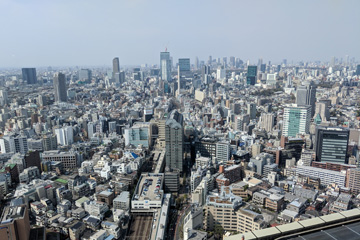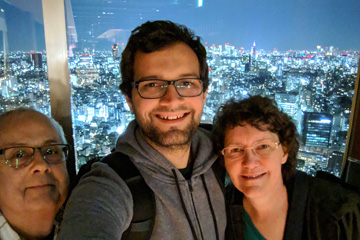 We went to Yoyogi Park one morning, where we saw the Cherry Blossoms (Sakura) in full bloom! They were gorgeous!!!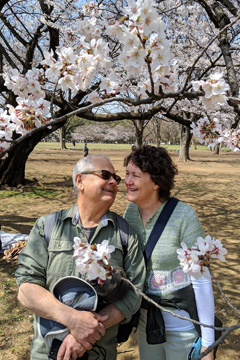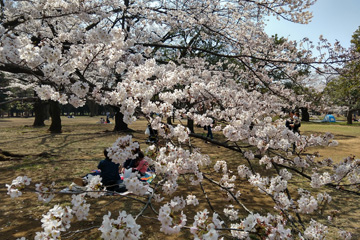 We saw a really unique escalator in Tokyo, too. It was surrounded by mirrors that gave a "prism" look to everything around it! It was really cool! This is the photo that our son took: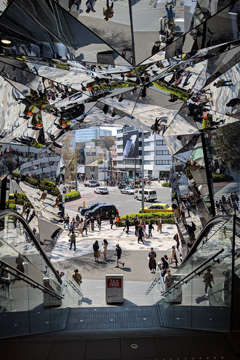 And our son took us to the largest Starbucks in the world in Tokyo! It's 4 floors high and opened in February, 2019! It's a "Starbucks Reserve Roastery". This one is 32,000 square feet (that's 2,000 square feet larger than the one they opened in December, 2017 in Shanghai, China)! It's HUGE!!! If you'd like to read more about this new Starbucks in Tokyo, check out this article by CNN last February.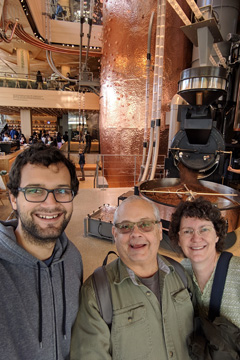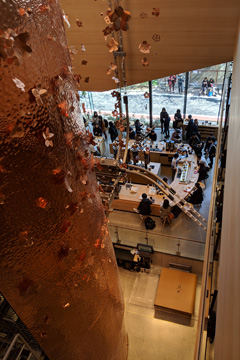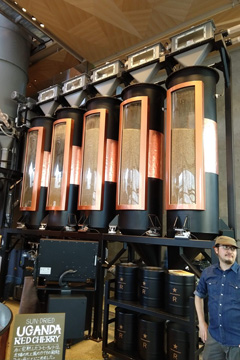 We even went to the Costco store in Tokyo! That was a lot of fun! My husband and I each bought a shirt/top as a souvenir and some Kit Kats to give to our family and friends. The Tokyo Costco had a different menu in their food court. They had hamburgers, so we decided to split a double hamburger for dinner that night. It was very good!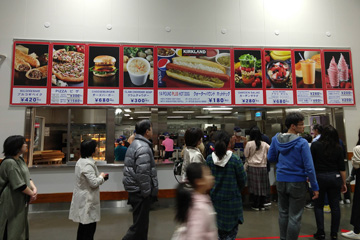 We ate at all kinds of restaurants, as well as picking up things to eat at the corner 7-11 or Family Mart quickly and inexpensively. Tokyo has convenience stores in almost every block, which makes it "convenient" to grab something to eat when you're hungry! We even ate sushi with our son one day for lunch! It was really good and fresh, made right in front of us!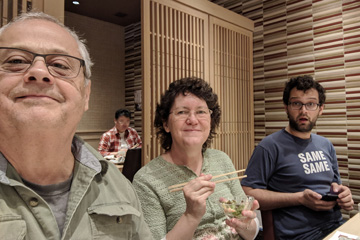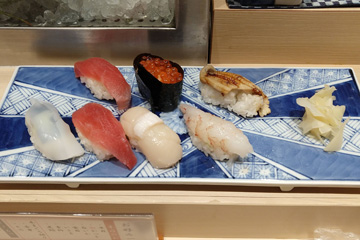 Japan was a very clean place. The subways and trains were convenient, clean and not that crowded (even in rush hour). Yes, you feel like a sardine, but somehow it wasn't that bad (maybe because we've already navigated the subway systems in Beijing and London!).
We felt that the people in Japan were friendly and helpful. We even asked a stranger for help when we needed to catch the correct bus to get somewhere.
There were English signs everywhere in Japan, so it wasn't as hard to navigate as in China, where there aren't as many English signs.
One of the big differences in Japan was the size of the hotel rooms. They have very small hotel rooms, probably so they can fit more rooms into each hotel. In the US, we're used to hotel rooms with plenty of room. But in Japan, they're quite a bit smaller than here. But that's okay because we don't travel to stay in the hotel rooms. We travel to see the sights! We just need a clean place to sleep, shower and change clothes. Below are a few pictures of the 2 hotel rooms where we stayed.
This was the very small room where we stayed in Kyoto. The bed was pretty small and was only accessible from one side and the foot of the bed. The bathroom seemed like a bathroom you'd find in a travel trailer or motor home. You had to step up into it! That was very different. It was a clean room and served its purpose for the price we wanted to spend (around $80/night), so it was fine.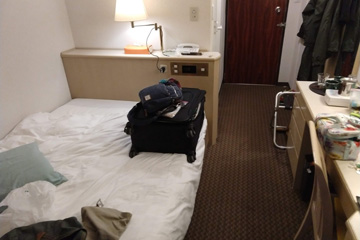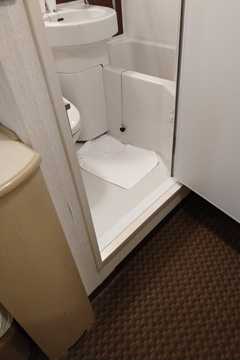 This was the room where we stayed in Tokyo. It was close to a subway/train station and had lots of places to eat nearby (I think all of Tokyo has places to eat nearby!). It was clean and a little larger than the hotel room in Kyoto. It even had a small washer/dryer combo in the room so we could do a load of laundry. And the bed was accessible from both sides with small nightstands on each side. What luxury!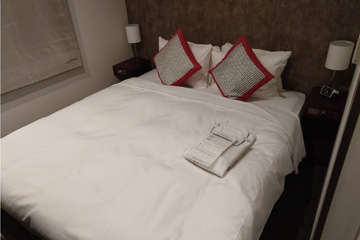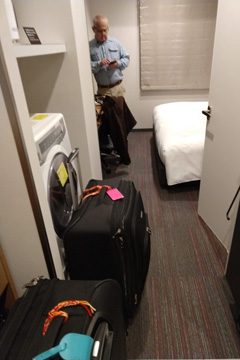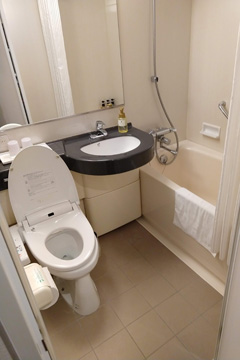 Oh, I almost forgot! A lot of places in Japan have "heated" toilet seats! Need I say more?
We loved our trip to Japan and would go back in a heartbeat! What lovely memories we made and beautiful sights we saw!
Where is your favorite place to travel? What do you like to see when you're traveling?
I hope you're able to travel (if you have that desire) and enjoy life with the ones you love!
Until next time!
Happy crocheting,
Susan