What? You haven't heard of KnitCrate? Let me tell you all about them (or at least a little about them). KnitCrate is a company that ships out monthly knitting and crocheting boxes/crates which include both a knit and crochet pattern, along with 2 skeins/hanks of yarn to make either of the 2 designs.


This month, I'm the designer of both designs in KnitCrate's
Membership crate: 1 crochet and 1 knitting. This is the first time I've
designed for KnitCrate and it was a great experience!


About a year ago, I was approached by KnitCrate to design something for their June 2019 crate. I love designing in both knit and crochet, so I agreed to design both patterns for June! Earlier this year, they sent me 4 hanks of yarn (2 of each color) for the knit and crochet designs. I had so much fun designing these 2 patterns for them! The yarn they sent me was squishy and very soft. It's the same yarn that is included in the June 2019 KnitCrate membership crate. The yarn is called Vidalana Aloft DK, a chainette-plied yarn that's made with 48% merino wool, 20% baby alpaca and 32% organic pima cotton. This yarn is lovely to work with! The 2 colors I used are Tiger Lily and Wee Violets. When I received this yarn, I knew I wanted to design my projects with lots of texture and some lace! So without further ado, here are some photos of each design, along with information about them and the designing process behind them.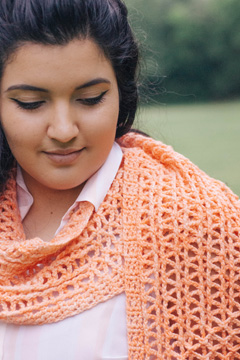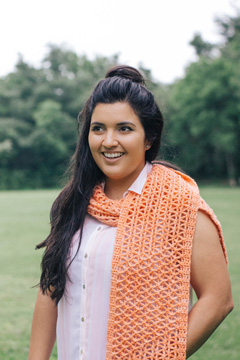 First up is my crochet design called "Golden Afternoon". This is a reversible scarf or cowl made with lots of post stitches and chains. I designed this stitch pattern myself to mimic one of the knitting stitch patterns that I used in the knit design.


Once I came up with the crochet stitch pattern, I realized that it looked really nice on the back, so I decided to take advantage of that and make the scarf reversible! I decided to make diagonal lines where the changes occur between the front and back of the stitch pattern. Then I calculated how long and wide I could make the scarf/cowl with the 548 yards total that was sent to me. I'm thrilled with the final result of this scarf! You can find this pattern for sale on Ravelry here.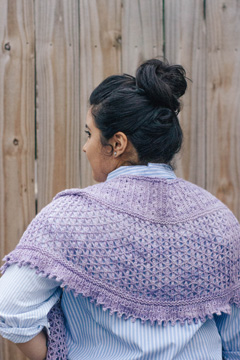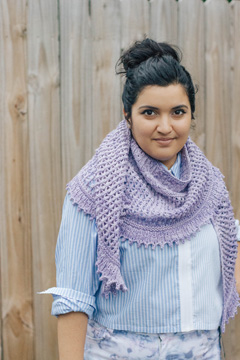 The 2nd design is my knit design called "Rows of Lavender", which I actually started designing first, but finished it last. This is a really soft crescent-shaped shawl that can be worn in a variety of ways. I used 2 stitch patterns in the body of the shawl and a coordinating border at the bottom. The shawl is started at the top, center with increases worked throughout to achieve the crescent shape. You can find this pattern for sale on Ravelry here.


I hope you've enjoyed seeing these 2 new designs. For more information about KnitCrate, check out their website here. If you decide to purchase the June 2019 KnitCrate membership crate and make either of these 2 projects, I'd love to see your finished projects or answer any questions you may have about the patterns.


Until next time!


Happy crocheting (and knitting),


Susan