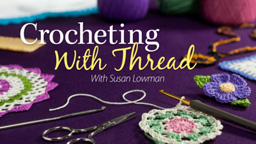 Well, the month of June has come to an end. I hope you've enjoyed the Round Robin blog tour with Robyn Chachula, Ellen Gormley and Jenny King. I haven't personally taken any classes from these 3 talented crochet designers and teachers, but I've met all of them at CGOA Conferences in the past. They're all extremely nice and are fun to be around! I hope I get a chance to take a class from each of them in the future!
The giveaway contest has ended and the winner has been chosen at random. Since I'm not as technologically savvy as some other people I know, I do things the old-fashioned way when it comes to picking a winner for my contests. I type the name and e-mail address of each entrant, print it out, cut out the names, fold them, place them in a container (this time it was an old Cool Whip container) and have my husband pick one at random! It works for me and it's fair for everyone.
So without further ado, the winner is….. Amy (felicitea)! Congratulations, Amy! I'll be e-mailing you shortly to let you know how to claim the Annie's class of your choice!
I hope everyone has a wonderful month of July. I'll be flying to Manchester, NH to teach 3 classes at the CGOA Conference in July. One of the classes is shuttle tatting. The other 2 classes are symbol crochet and my faux tatted necklace. I'm also taking 2 knitting classes to learn more about knitting and to improve my knitting skills and knowledge. I still have a little more to learn about crochet, but not as much as I have to learn about knitting! I sold my first 2 knitting designs to a publisher this month, which I'm very excited about. They'll come out next spring in a book (that's all I can tell you about them at this time). I have 2 knitting designs that I'll be self-publishing soon, too, as well as many new crochet designs that my husband and I photographed over the last 2 days.
Take care everyone and I hope you're staying cool this summer!
Happy crocheting to you all!
Susan