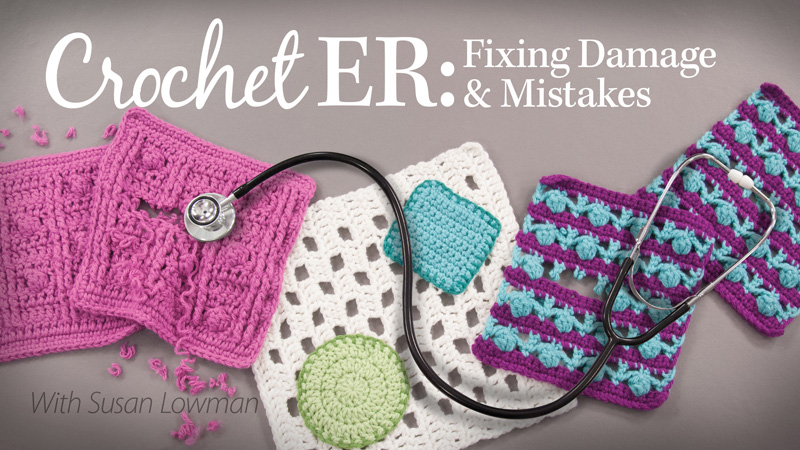 Two months ago, I went to Berne, IN to film 2 crochet videos for Annie's. Today, the first of the 2 videos is being released on the Annie's website. I'm SUPER EXCITED about this video! The name of the video is "Crochet ER: Fixing Damage and Mistakes". I've been teaching this topic for 2 years at the CGOA Conference: how to invisibly repair damage to your crochet projects and how to fix mistakes. I LOVE being able to repair any crochet project and I'm THRILLED that Annie's asked me to do this video!!! Now YOU can learn how to repair damage to your projects (or anyone's projects) and how to fix the mistakes in your projects (or anyone's projects) invisibly!
In this video, I teach you how to "read" your stitches by showing and explaining how each stitch looks on the front and back of the stitch. This is VERY important in learning to repair or fix crochet projects. You have to know what stitches were worked (or were supposed to be worked) in order to replace the stitches correctly! When you know the differences between the stitches (how many horizontal, vertical and diagonal strands each stitch has on the front and the back of the stitch, as well as where those strands are located), you're able to decipher any crochet project and come up with a "game plan" for how to repair or fix it!
In the video, I also demonstrate how to repair 3 crochet swatches (the Granny Square swatch, the Solid Popcorns swatch and the Ripple swatch). You'll be able to crochet each of these repair swatches (with the included instructions for each swatch) and repair your swatches along with me, enabling you to feel confident repairing your own full-size projects!
If you make mistakes in your projects (and let's face it, who doesn't make a mistake every now and then?), you'll be able to fix your mistakes invisibly by following along with me as I fix mistakes in the included class projects (the Popcorn Rows swatch has a missing popcorn in it and the Uneven Edges and Hole swatch has 2 uneven edges and a hole in it). You'll be able to crochet the class mistake swatches (with the included instructions for each swatch) and follow along with me as I fix the mistakes in those swatches in class. After fixing the mistakes in your class swatches, you'll feel more confident to repair the mistakes in YOUR crochet projects!
To successfully repair or fix any crochet project, you'll follow the steps that I outline in the class video (in order). I'll be with you every step of the way, showing YOU how to successfully repair or fix YOUR crochet projects. This is wonderful knowledge for EVERY crocheter to have! I've used this knowledge/technique to invisibly repair many crochet projects, even projects worked in the back loop or projects with post stitches, which can both be very tricky to repair or fix invisibly! Now YOU will be able to repair or fix any of YOUR crochet projects, as well!
I had a blast working on this video and I hope it will enable you to learn to repair and/or fix your crochet projects with confidence! If you have a question, you can ask me in the class question forum and receive an answer from me within 2-3 business days (usually sooner). My goal for this class is to enable as many crocheters as I can to succeed in repairing and fixing their (or someone else's) crochet projects invisibly (so no one knows where the repair or fix was made!).
Here are some extra photos from filming this video (some serious and some silly!). I really enjoyed dressing for the part of the "doctor" in the crochet "Emergency Room" (ER) by wearing a lab coat and a stethoscope!
If you'd like to take a look at this video, including a free preview, check it out HERE (Note: This is an affiliate link, so if you click on this link and purchase the video through the link, I'll receive a small commission to help compensate me for my hard work! It won't cost you any extra to purchase the video through this link and your support would be greatly appreciated!).
If you purchase this video, remember that I'm here to answer your repair/fix questions through the "Ask the Instructor" feature on the Annie's website. I want YOU to succeed in repairing and fixing YOUR crochet projects so no one will ever know where the repair or fix was done (I have a hard time finding the invisible repair I made to the afghan that our puppy chewed a hole in 3 years ago!).
Happy crocheting and happy repairing and/or fixing your crochet projects!
Susan