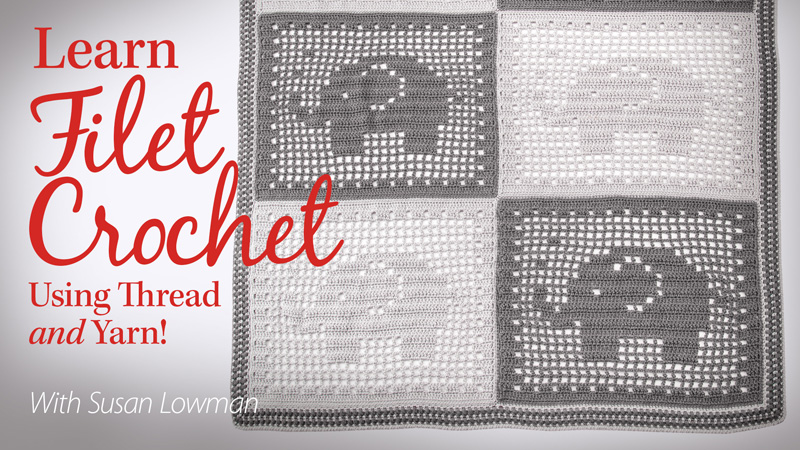 I have another announcement for you this month! It's my newest Annie's crochet video class: "Learn Filet Crochet Using Thread and Yarn!".
Filet Crochet is such a great crochet technique! I've been doing Filet Crochet for several decades now! I've designed a bunch of Filet Crochet patterns and taught this technique at the CGOA Conference many times, as well as at the 2018 Interweave Yarn Fest. I LOVE Filet Crochet! You can crochet so many different kinds of things with it! You can combine it with other crochet techniques, as well.
Here are a few of the designs I've done over the years, some simple and others more complex:
If you'd like to see all of my published Filet Crochet designs in the past 20+ years, check out this Ravelry search. Most of these designs are done with crochet thread, but a few of them are done with yarn. If you're interested in the Europa Scarf, which I designed in 2010 with Naturally Caron Spa yarn (a now discontinued yarn), you can download the free pattern here. You can also download several free Filet Crochet patterns on the Red Heart website.
No matter what you use for filet crochet, the technique is the same! It's just the size of the yarn/thread and hook that makes the difference (and, of course, the pattern)!
This Filet Crochet video was filmed at the same time as my other new video, "Crochet ER: Fixing Damage & Mistakes", which came out last month. You can read all about that video in my previous blog post here.
Here are a few photos from filming this new Filet Crochet video:
And here are the 2 class projects from my new Filet Crochet class that you'll be able to make when you sign up for this class:
In this class, I teach how to work the closed mesh, open mesh and lacets that comprise Filet Crochet patterns. I also teach how to read and follow Filet Crochet charts, as well as how to calculate the number of chains in the starting chain for a Filet Crochet pattern that is only charted (not written). And I teach 2 ways to make your Filet Crochet mesh more square.
The first thing we work on in the class is a practice swatch. With this swatch, you will learn to work the open and closed Filet mesh, as well as lacets. You'll also get practice following a Filet Crochet chart. Once you've mastered the swatch, you can move on to make either or both of the class projects: the Filet Elephant Baby Blanket and the Filet Name Banner.
The Filet Elephant Baby Blanket pattern includes written instructions and a Filet Crochet chart. In the video, I demonstrate how to make the elephant blocks, as well as how to join the blocks to create the blanket. There are 2 edging options, which are both demonstrated in the video, along with the special stitches used in each edging. Because this blanket is made with yarn, it's a great way to learn to do Filet Crochet (without any intimidation that using crochet thread and small steel hooks might present!).
The Filet Name Banner pattern includes a chart for the whole alphabet, as well as the edging, so you can make any name or word you'd like for your Filet Banner. In the video, I demonstrate how to make your customized chart for the name or word you choose to crochet. Then I demonstrate how to crochet several of the rows, following your custom chart.
You can get creative with how you'll use your Filet Name Banner. You may want to use it as is or mount it in some way. To give you an idea of how you may want to mount your banner, here's a photo of another Filet Name Banner that I crocheted many years ago showing how I mounted the filet piece on some fabric and hung it on the wall with a painted wooden dowel:
If you're not comfortable using crochet thread and you'd like to learn to crochet with thread, you may want to check out my other crochet video class with Annie's called "Learn to Crochet With Thread". In this thread crochet class, my goal is to help you feel comfortable using crochet thread for your crochet projects. Who knows? You may come to love thread crochet as much as I do!
I hope you've enjoyed this look at my new Filet Crochet class for Annie's! If you'd like to take a look at this video class, as well as watch the free class overview and introduction segments, check it out HERE (Note: This is an affiliate link, so if you click on this link and purchase the video through the link, I'll receive a small commission to help compensate me for my hard work! It won't cost you any extra to purchase the video through this link and I would appreciate your support!).
I hope you've enjoyed this look at my new Annie's video class!
Happy Filet Crocheting,
Susan