I had a LOT of FUN last weekend! On Thursday, Oct. 29, I flew to Fort Wayne, Indiana to teach 3 crochet classes at the 1st Annual Annie's Craft Festival on Friday and Saturday. Yes, you heard that right. Annie's will hold this craft festival once a year! The next one will be Sept. 16-18, 2016 at the same place, the Grand Wayne Convention Center in Fort Wayne, IN.
I absolutely LOVED teaching my 3 classes: Introduction to Irish Crochet, Polish Stars and Intermeshing! My students were fabulous and really enjoyed learning these 3 crochet techniques! The Irish Crochet class that I taught on Friday morning had the most students. There were 20 or 21 students in that class! I waited too long to take a photo of the class, as the students were packing up and leaving when I remembered to take a photo. Everyone was so patient with themselves and their rate of crocheting. The class project was an Irish Crochet rose, 2 leaves, a background and an edging. You've probably already seen it, but here it is again:
There were several things that I taught the ladies how to do in this project. By far the hardest is carrying the padding cord along the edge and working the edging, which turns twice to create the arches. I demonstrated these before the end of the class in small groups of students so everyone could see what I was doing. Also, creating the chain loops BEHIND the previous round of petals on the rose was new to most of the students. I think it's always much better to learn something like this in person in a class rather than trying to learn it on your own! And working into the back loop of the sc on the leaves to give them the ridges was new to some of the students, as well.
All in all, everyone did great with their projects! One student finished crocheting her piece and another student only got the center rose done in the 3 hour class (she hadn't done thread crochet before, so it took her a while to get the hang of the small thread and small steel crochet hook, which is totally understandable). Everyone else got to somewhere in between, with many of the students finishing the rose, both leaves and starting on the background mesh around these motifs. It really didn't matter how fast or slow the students worked, as long as they understood how to work everything correctly.
On Friday afternoon, I didn't teach a class. After eating a quick lunch, I sat in the Annie's booth with Patty Lyons (a knitting teacher) and Ellen Gormley (a crochet designer and teacher, as well as the editor of Crochet! magazine), who have lots of videos with Annie's (I only have 1 at this point in time). Patty took a photo of me wearing the same Japanese crochet cardigan that I wore in my Annie's crochet video and holding my Annie's video (she got a kick out of that!). Here's that photo for you to see: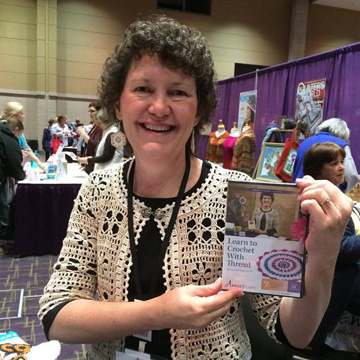 And here's Ellen and me in the booth after Patty went to teach her afternoon class: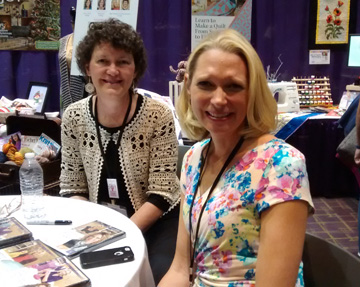 After being in the Annie's booth for an hour, I walked around the marketplace and bought some pretty yarn, crochet thread and knitting patterns. Here are the "goodies" that I bought: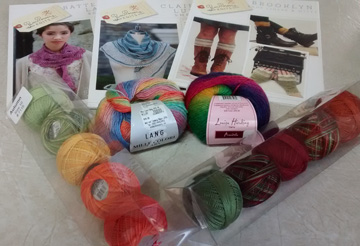 First, I bought two 5-packs of size 10 Lizbeth crochet thread. These packs are already color-coordinated for fall and autumn, which I thought were the same thing, but that's how they're labeled, so I'll go with it! I can envision lots of beautiful designs using some or all of these threads!!! And they were on special (normally $19.95 each) for $15.80 each plus an additional 15% off! How could I pass them up at those great prices? Obviously, I couldn't! I got all 10 balls for just $28.47. They're normally $3.95 each before taxes!
The 2nd thing I bought was 3 knitting patterns by Pam Powers. These are fabulous patterns. They're photographed nicely, they're laid out well, they're printed on tri-fold heavy cardstock and they have wonderful charts, too. They were buy 2 (at $7 each), get 1 free! So I picked out my favorite 3 patterns to make or learn from to design other knitting patterns. I bought the patterns named Clair De Lune Shawl, Battenburg Lace Scarf and Brooklyn Boot Liners & Mitts. I really enjoyed meeting Pam in her booth and talking with her at the show. She has a book of knitting designs called "Dress-to-Impress Knitted Scarves" by Stackpole Books. I really like a lot of the projects in that book, so I'll have to add it to my ever growing "wish list"!
The 3rd thing I bought was 2 balls of beautiful yarns for knitting or crocheting. They are Louisa Harding Yarns Amitola and Lang Yarns Mille Colori Baby. I have some 1-skein projects in mind to design with these yarns!
While in the marketplace, I also met Linda Krag in the Cast Off Chemo booth. She is working hard to raise awareness and funds for the cancer research of Dr. David Krag that will do away with chemotherapy and cure cancer. For more information about Cast Off Chemo, please visit their website. Here's Linda and her assistant in the Cast Off Chemo booth (Linda is on the right in the photo):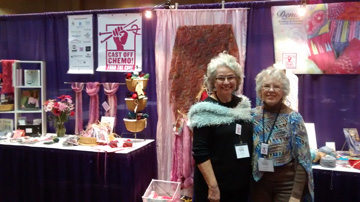 Cast Off Chemo has some very nice knit and crochet patterns for sale. All of the proceeds from the sale of their patterns go straight to the cancer research. You can see all of their patterns on their Ravelry page here. I got a skein of some really pretty pink yarn (by Wool2Dye4) from Linda to design something for this project. I'll have to put some thought into what I can design with the 400 yards in the one skein of yarn. Of course I'll let you all know what I design and when the pattern is available for purchase from Cast Off Chemo!
There was a Gala Banquet on Friday evening with Debbie Macomber as the keynote speaker, but I decided to relax that night and not try to do everything at the craft festival! Often, I try to do too much and suffer the consequences when I do! It's rough getting old!!!
On Saturday, I taught the other 2 classes: Polish Stars and Intermeshing. Here are photos of the students in each of those classes:
As you can see, these classes were pretty small, but they were enjoyable and went great! All of the ladies in the classes (except for one who left early) learned the techniques. Two of the ladies in the Polish Stars class actually took my Irish Crochet class the day before, too! I was able to sit and demonstrate the Intermeshing to the 3 students in that class, which helped immensely!
At lunchtime on Saturday, I went out to lunch with 2 friends: Beth and Melissa. They both live in Indiana. Beth is one of the senior portfolio reviewers for the CGOA Masters program. She and Melissa work together and they both crochet. We had a delicious lunch at a nearby Irish Pub called J. K. O'Donnell's. I had the lamb pasty and their potato & leek soup. It was SOOOO good (and reasonably priced, as well)! Here's a photo of the 3 of us at lunchtime:
After teaching my afternoon class, I went to my hotel room and changed into my Star Trek Halloween costume (yes, it was actually Halloween that day). I met Beth and Melissa, who also had on their costumes, down the hall in the hotel. We went to the Annie's Crafts & Cocktails Halloween Party. I had a blast! Here we are with our costumes on:
There was another lady there who dressed up in a Star Trek dress, too. She sewed her dress, whereas I crocheted mine. Here we are waiting for the room to open:
At the party, there were some carnival-type games to play to win tickets (like throw a yarn ball into a basket, toss an embroidery hoop onto the stem of a pumpkin and guess the weight of the yarn with the yarn label covered up). After winning tickets, you could cash them in for prizes. Here's the "loot" that I won that night:
The Denise interchangeable knitting needle set was a bargain at only 8 tickets! And each of the skeins of yarn was just 1 ticket each! Woohoo! I got 13 skeins of yarn, the knitting needle set, some natural wool roving (I might try to spin with it), some yarn bobbins and some cable stitch holders. There was also a photo booth to take your photo for putting on social media (or just for personal use). Here I am posing in the photo booth: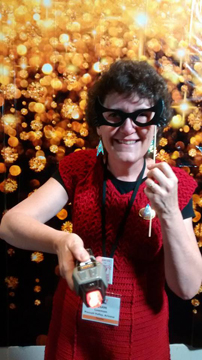 Since my classes that were originally scheduled for Sunday were cancelled, I flew home on Sunday. I really enjoyed the 2 days that I was there and look forward to attending/teaching again next year!
I hope you've enjoyed this glimpse into the fun that I had at the Annie's Craft Festival. And I hope you'll consider attending next year! Keep your eyes and ears open for more information about the 2016 Annie's Craft Festival! I look forward to seeing/meeting you there!
Happy crocheting,
Susan