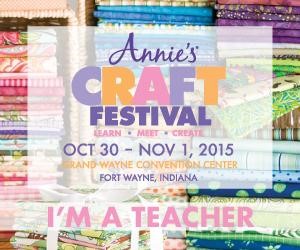 It's been a month since my last blog post and I've been really busy! I'm preparing to teach at the Annie's Craft Festival in 8 days! And I'm working on a "top secret" project, as well (I'll tell you all about it once I'm all done and it's ready for announcing!) But until then, I'd like to hold a giveaway! Read on for more information…
Are you attending the Annie's Craft Festival in Fort Wayne, IN a little over a week from now? The dates are Oct. 30-Nov. 1. I'm going to have a wonderful time there teaching 3 crochet classes:
I love meeting new students and sharing my love of crochet with them! To read about these classes, just check out my previous blog post here or the Annie's Craft Festival classes page here.
To learn all about the Annie's Craft Festival and see the listing of classes being offered in each of the 10 crafting categories, check out this website. There are lots of extra events going on at the festival besides the classes, too. There's a marketplace and 2 evening events (one with Debbie Macomber). So check it out and see what all the excitement is about! I'll be attending the Crafts & Cocktails Halloween Party on Saturday night, all decked out in my crocheted Star Trek dress and accessories! It'll be a lot of fun!!! I'm sure I'll have some photos of that night to share with you after I get back!
If you haven't registered to attend the Annie's Craft Festival yet (or didn't register for all the classes you wanted to take), this could be your lucky day! Annie's has graciously offered a FREE class for me to give away to someone who is going to the Annie's Craft Festival. That's one FREE class to the lucky winner of this giveaway (any class you choose in any craft category)! The class is a $65 value! If you're the lucky winner, you'll get the class for FREE!!! I love things that are free, don't you?
Here are the details of this giveaway:
1 – You must be able to attend or already be attending the Annie's Craft Festival.
2 – You must LOVE crafting in one or more categories of crafts that will be taught at the Annie's Craft Festival (crochet, knitting, beading, cake decorating, cross stitch, embroidery, floral arranging, painting, paper crafts, quilting or sewing).
3 – You must have a valid e-mail address and check it during the 24 hours after this giveaway ends for notification, if you're the LUCKY WINNER!
4 – You must know or have a good idea of the FREE class you'd like to take!
To enter this giveaway, just leave a comment below about what craft category (or categories) you enjoy! You'll need to have an account on my website to leave a comment, as this cuts down on spam comments being left. If you don't have an account, it's simple to do. Just go to the "Login" button at the top of the page and scroll down to "Register". Then fill in the "user name" and "password" blanks, check for the e-mail that will be automatically sent to you and verify that you're registered. You only need to register once and I promise I will NOT sell your information to anyone! It's just used here on my website to leave a comment (which is how I typically pick the winner for each of my giveaways). Once you register, you can leave comments on any of my blog posts. I love to hear from the people who read my blog, so please leave me a comment as often as you like! It's a lot of fun to meet other crochet enthusiasts, whether in person or through the internet!
Remember that you must be attending (or be able to attend) the Annie's Craft Festival to enter this giveaway (it's a waste of time for me to give a FREE class to someone who isn't attending!).
I'll pick the lucky winner at random at 7pm (Arizona time) on Sunday evening, October 25th (that's only 3 days to enter). If you're the lucky winner, I'll send you an e-mail right away to let you know you've won! And I'll notify Annie's on Monday morning so you can pick your FREE class!
Good luck to everyone who enters and I look forward to seeing you at the Annie's Craft Festival in 8 days!
Happy crocheting,
Susan