Are you a life-long learner, like me? I absolutely LOVE to learn new things!!! I've taken so many classes over the years, mostly in crochet. It's so much fun to learn something new, especially new crochet (or knitting) techniques!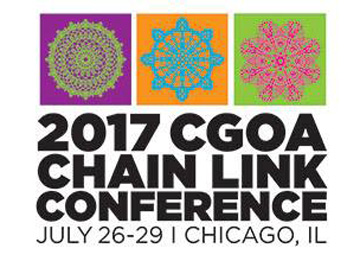 I also LOVE to teach others new things such as crochet, knitting, tatting, paper quilling, etc! Next month, I'll be teaching 5 crochet classes at the CGOA (Crochet Guild of America) Conference in Itasca, IL, just outside of Chicago. There will be over 50 classes available to take and so many crochet techniques to learn! If you're a crochet enthusiast, like me, this is THE PLACE to learn more about crochet! Here are the classes I'll be teaching at the conference:
Beginning Bruges Lace Crochet – Wednesday, July 26th from 6 – 9 pm
Beginning Filet Crochet – Thursday, July 27th from 2 – 5 pm
Invisible Repairs – Friday, July 28th from 9 am – 12 pm (Note: This class is sold out!)
Intermediate Filet Crochet – Saturday, July 29th from 9 am – 12 pm
Intermediate Bruges Lace Crochet – Saturday, July 29th from 2 – 5 pm
I'm really looking forward to teaching these 5 classes! I always enjoy meeting new people at the conference and spending time with old friends! Everyone is so friendly there and willing to help each other out with any questions they have, whether it's crochet-related, hotel-related or anything else. I love to inspire others to learn new things and stretch their crochet knowledge and skills!
To learn more about my crochet classes, or any of the other classes being taught (and to register for classes and events at the conference), just go to the CGOA website here.
There are many things going on at the conference besides crochet classes, too. There is a show floor with vendors selling crochet-related items, a design competition (for CGOA members), the CGOA Masters pinning ceremony, the induction of the newest CGOA Jean Leinhauser Crochet Hall of Fame winner (this year it's Carol Alexander), the CGOA Masters Day, a professional workshop, a designer meet & greet (where designers can meet with editors and sell their designs) and a fashion show. To read all about the conference, check out this page.
If you've been to the CGOA Conference before, what is your favorite part of the conference (if you can name only one thing)? If you'd love to go, what would be some of the classes/techniques you'd love to learn?
Happy crocheting,
Susan