A few weeks ago, I flew to Anchorage, AK to teach 4 crochet classes to 11 wonderful ladies in the Ididachain Crochet Guild! They are one of the many local guilds/chapters of CGOA (Crochet Guild of America). This was their Fall Retreat, which they held at a camp in Big Lake, AK. The area was absolutely beautiful and relaxing, right next to the lake. And each of the ladies was friendly and eager to learn what I had to teach them! The camp had great accommodations and delicious food! And the weather was perfect! I had so much fun!!!

This was my first time being in Alaska, as well as the first crochet retreat I've attended and the first retreat I've taught at! What a wonderful experience I had (except for having to wear a face mask in all 3 airports and on each of the 4 flights I took to get there and back to AZ)!


The crochet topics/techniques I taught there were:


Faux Knitting (how to knit with a crochet hook)
Irish Crochet (the basics)
Filet Crochet (beginning to intermediate)
Invisible Repairs (how to repair damage to any crochet project)


Here is a photo of all of us at the retreat: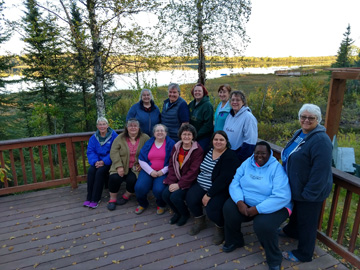 I really enjoyed getting to know these ladies. Each of them has been crocheting for a different length of time and each has their favorite type of crochet projects to make! Some of them are Alaska natives and some of them are transplants from other parts of the US. I want to say "Thank You" to each of you for making me feel welcome! You're the best!


I want to give a HUGE "Thank You" to Mickey for asking me to teach at the retreat, picking me up at the airport, driving me to the hotel, giving me a personal tour of the new JoAnn Fabric "flagship" store in Anchorage, helping to alleviate my fears involving the need to take a Covid test before flying to Alaska and so much more! Thank you to Debbie and Amy for driving me to lunch and the yarn shop (Fiber N' Ice) the day before teaching. Thank you to everyone at the retreat (and everyone in the guild) for the beautiful gift of 2 hanks of local hand-dyed yarn from Denise at the Fiber N' Ice yarn shop! I hope you each learned a lot and will use some of what you learned in your crochet projects (and/or repairs).

Here are photos of the yarn/fiber I bought, along with the 2 hanks of yarn that the guild gave me as a thank you gift: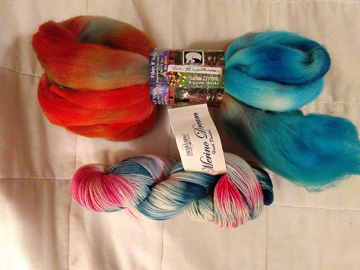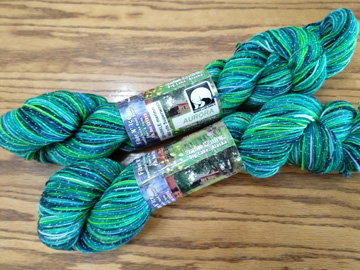 This sparkly yarn is gorgeous! The color is called "Aurora" for the Northern Lights! I'm not sure what I'm going to make or design with it yet, but it'll be something substantial, since each hank has 400 yards of superwash yumminess!

Here are photos of the students' class projects/samples and the other projects they were working on in the evenings: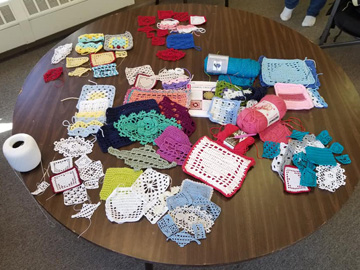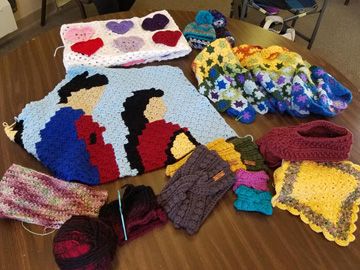 Here are photos of the beautiful lake: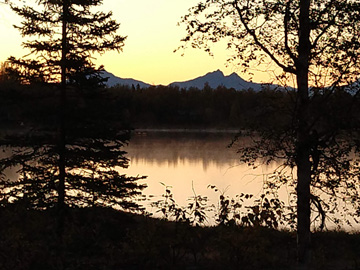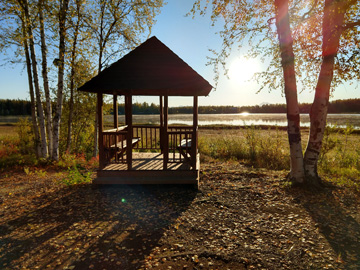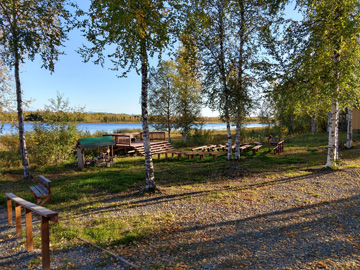 This was a trip that I won't forget! I'd go back to Alaska in a heartbeat! It's gorgeous there, especially since I live in a desert state with lots of brown instead of green!

I hope you've enjoyed this update and the eye candy!

Happy crocheting,
Susan