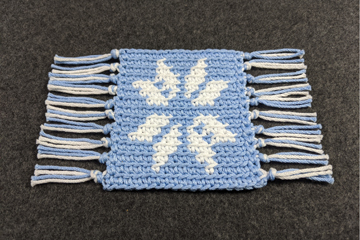 I'm pleased to announce that I've just released a new crochet video on my YouTube channel to teach the Tapestry Crochet technique. This video was a lot of fun to put together! I really like this technique because it's one of the techniques that uses more than one color in a row or round! Plus the designs you can create with it are endless! Check out my new Tapestry Crochet video here.

With this technique, you use 2 or more colors in each row/round. You change colors, according to a chart, and "carry" the unused color(s) underneath the stitches being worked. It's a great technique to use when you don't want to have long strands of yarn on the back of your work!


This new Tapestry Crochet technique video teaches you how to begin and end rows of Tapestry Crochet, carry the yarn, change colors and make the fringe. All while having fun making the snowflake coaster project that's included in the video. The Snowflake Coaster chart is available for free on my Free Patterns page.

I love designing small projects for learning a new technique. There's nothing like being able to finish a crochet project quickly, all while successfully learning a new technique! And small projects are great for practicing a new technique. If you make a mistake, your huge project isn't ruined!

If you enjoy the this technique, you may want to make something larger than a coaster in this technique. That's where my "Stained Glass Snowflake Scarf" and "It Takes All Colors Snowflakes Afghan" patterns come into play! Both of these designs use the exact same Tapestry Crochet technique that I'm teaching in this new video.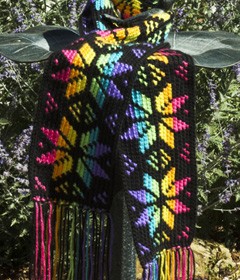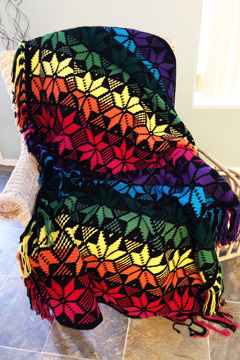 If you haven't tried the technique before, what are you waiting for? It's a wonderful technique with many fabulous projects that can be made from it! Check out my new Tapestry Crochet video here.

And speaking of Tapestry Crochet, I bought a new Tapestry Crochet book last week called "Colourful Wayuu Bags to Crochet" by Rianne de Graaf. You can see this book on Amazon here. Rianne has designed some really pretty bags in the Tapestry Crochet technique. These bags are so cool! Rianne even teaches how to make the straps and cords for the bags in this book.


I hope you've enjoyed this look at Tapestry Crochet and will give it a try. You'll be glad you did!


Happy crocheting,


Susan
Tapestry Crochet Tutorial
Average rating:
0 reviews