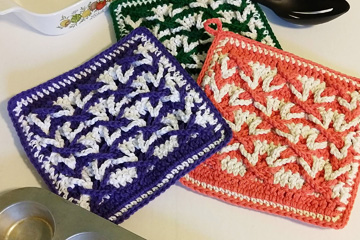 I've been meaning to publish this pot holder pattern for several years, but everyday life has been getting in the way! That's not a great excuse, but I'm going to run with it!

I first learned to do the Polish Stars crochet technique many years ago. I can't remember if I took a class or learned it through a pattern. The original way to work the Polish Stars technique was a little jumbled (in my opinion), so I made a little adjustment to the technique, making it easier to do!

I've seen a few videos on this technique. In one of them, the stars are woven incorrectly, making the end result look pretty bad! So I decided I'd better add more information and a weaving diagram to the instructions in this pattern to make it easier to learn the technique and execute it correctly. I plan to make crochet videos in the near future (God willing) to help others with their crochet skills and knowledge. This is one of the techniques I'll cover in those videos.

If you've never done the Polish Stars technique, let me tell you a little about it. Basically, you crochet rows of stitches with 2 solid contrasting colors, alternating the color on every row (I've used extended double crochets in this pot holder, which I explain how to make in the pattern: they're between the height of a dc and a tr). Within those rows of stitches, you work chain loops per the instructions. When the instructions say to weave the loops, you do that, then you crochet the last row of the pattern, which secures the chain loops in place.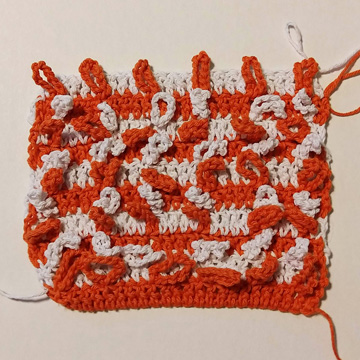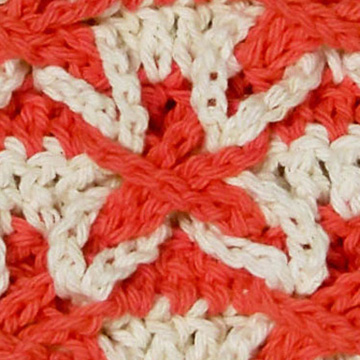 Like I said, I've included a weaving diagram in this pattern, which shows how each chain loop is woven into the appropriate adjacent chain loop. There are also detailed written instructions for weaving the chain loops.

Since I LOVE symbol crochet charts, I included one of those for the front of the pot holder, for those who also enjoy working from a symbol crochet chart.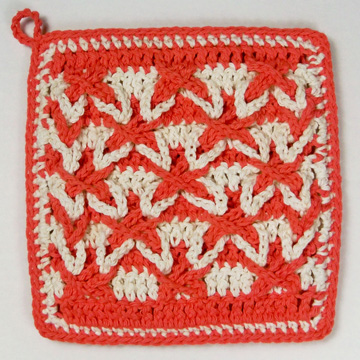 I included 2 layers in this pot holder design. The front has the stars and the back has stripes to mimic the colors of the rows worked on the front. However, there are no chain loops on the back. The purpose for the back piece is to make the pot holder thicker and eliminate holes that fingers can go through. With 2 layers of cotton yarn, the pot holder is safe to use in the oven (no fingers will go through to touch hot casserole dishes, cookie trays, etc).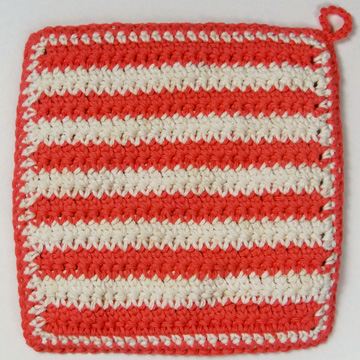 I hope you've enjoyed this look at my Polish Stars Pot Holder pattern and that you feel more confident to give this crochet technique a try very soon! If you'd like to give this a try and make a unique pot holder, check out the pattern here.

Happy crocheting,
Susan