Have you ever taken a trip to somewhere very far away (like on the other side of the world) and had major jetlag? Well, I think I'm finally over the jetlag and things are looking up (at least I can think mostly clear again!). Let me tell you about my trip and the fun that I enjoyed there!
My husband and I just returned last week from a 2 ½ week trip to China. That's right, we were on the other side of the world! It's so amazing to me that you can get in a plane on one side of the world and arrive 10-12 hours later on the other side of the world! That just blows my mind!!! We stayed with our 2 sons and daughter-in-law who are currently living in Beijing. We had so much fun there with all 3 kids (they're actually young adults in their 20's)! The food was amazing and the people were very friendly (at least all of our kids' friends were). We went to the great wall (at the Badaling location) just outside Beijing and saw the Terra Cotta Warriors in Xi'an. Both of these were amazing!!! Here are a few photos of those two places:
These 2 places were some of the highlights of our trip. But we went to see so many more places than just these two. We saw the Temple of Heaven and the Forbidden City, both in Beijing. We also went to the National Museum of China in Beijing, just across the street from Tiananmen Square. And we rode bicycles on top of the city wall in Xi'an, too! There were so many interesting things to see and do. We rode the subway in Beijing most days (sometimes like sardines at rush hour!). We took buses and trains, too (including a sleeper train from Beijing to Xi'an and back). We walked and walked and walked! My husband had an app on his smart phone that counted our steps. We walked between 10,000 and 17,000 steps most days!!! We really got our exercise! And speaking of exercise, our kids live on the 6th floor of a building in Beijing (with no elevator), so we walked up and down the 84 steps to get to their apartment every day (and sometimes twice a day!). The soles on my new shoes got a year's worth of wear in just 16 days!!! But I'm not complaining. The trip was fabulous and we enjoyed the time we spent with our kids tremendously!!! We wouldn't trade it for the world! We even learned to use a "squatty potty"! If you don't know what that is, here's a photo of a clean one at the Great Wall:
Believe me, they weren't clean everywhere we went, especially at the train stations! If you've never used one before, it's very interesting! They aren't terribly comfortable and easy to use like our "western" toilets, but you get the job done and get out right away! And hopefully you don't lose your balance while squatting (ask me how I know)!
Here are some of the "delicacies" that we saw in Beijing and Xi'an:
These are scorpions, starfish and squid on sticks! Some people actually eat these in China! Yuck!!!
Anyway, I did a few "fibery" fun things while there, too. First, I taught about a dozen Chinese women to crochet. My daughter-in-law helped set up the dates for me to teach the women while I was there. These women have been exploited in the past and are finding new ways to earn a living, like making jewelry to sell. It was a huge blessing to be able to teach them to crochet. They all loved it and 2 men there learned to crochet, as well (one of the men was very excited to crochet a necklace). I can't show you photos of the women (for their own safety), but I can show you some of the projects they made during the 2 classes.
I taught them to make some beginner projects. We made chain necklaces and single crochet spiral coasters. Some of them had crocheted before and some spoke English, so they could help each other and translate for those who didn't speak English (I only know a small amount of Mandarin; just enough to be "dangerous"!). They all enjoyed learning to crochet and I thoroughly enjoyed teaching them. I'm so glad that I could play at least a little part in these young women's lives.
I took a suitcase full of yarn and crochet hooks for them. Before I went, I asked my local knit & crochet group if anyone had some extra H, I or J crochet hooks for these women. The ladies in my group donated over 80 spare crochet hooks! Wow! I was blown away by their generosity! So I took all of the hooks, along with a few extras of my own, and left all of the hooks and yarn with the women in China! I pray that God will bless these women through this small act. Here's a photo of the donated crochet hooks for China:
The other fun "fibery" thing I did was buy some Chinese knit and crochet books (I can't decide which one I love more: yarn or patterns!). One day while we were in Beijing, my husband, youngest son and I went to a Chinese book store that was many floors tall. After looking around for a long time, we found the knit and crochet section of the store! I felt like a kid in a candy shop!!! I bought 6 knit and crochet books that are fabulous (and cheap!). All 6 books cost only $39.50 total! They would have been more than double that price here in the US! Here's a photo of the books I bought:
No, they're not written in English! But they have knit and crochet charts that I can read just fine (well, I'm still learning to read knitting charts, but I'll learn more about those very soon). The projects inside these books are very nice. Here are just a few of my favorites: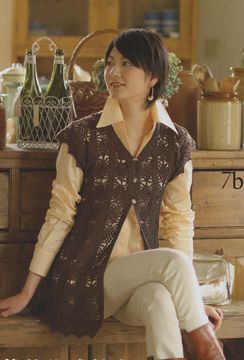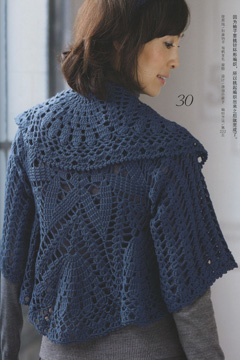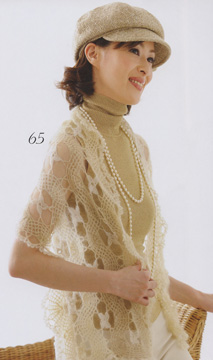 There are so many beautiful garments and stitch patterns in these books. I know I'm going to get lots of designing inspiration from them!
I hope you've enjoyed this peek into my trip to China! Until next time…, zàijiàn!
Happy crocheting,
Susan