I recently met a crochet designer through the internet. Her name is Kristi Simpson and she's a very talented crochet designer. She has a website and an Etsy shop. To celebrate the release of her new book, "Mommy & Me Crocheted Hats", published by Stackpole Books, I'd like to do my first "blog interview" with Kristi today. You can see and order this book on Amazon here. I'll share a few photos of my favorite hats in her book toward the bottom of this blog post, too.
S:  How long have you been crocheting?
K: I have been crocheting for 6-7 years! Wow! Time flies!
S:  How long have you been designing?
K: I have been designing for 5 years…but I have only been selling designs since 2010. I knew shortly after I learned to crochet that I wasn't happy with a lot of just plain designs. I wanted to make functional things cute and so I was determined to design things that were fun and cute to crochet. I now have over 350 designs.
S: What are your favorite things to crochet or design?
K: Obviously I have a soft spot for babies and small children. My husband and I have 5 inspirational children: Jacob, Kimberly, Allison, James and Ryan that keep us on our toes! They inspire me to keep my designs fresh, and kid friendly. I understand what it means to be on a budget, but still want all of the 'cute' designs for my little ones….and now I make them!…but when it comes down to patterns, I know there's a demand for all ages. My new book is about giving everyone a chance to jump in on the fun and having cute hats to wear!!
S: Where/when/how do you get your design inspiration?
K: I honestly LOVE to go yarn shopping. I might walk out with 1 skein…and on the fun days my husband is with me, I might walk out with 10 (I love it when he goes!). He is my biggest support and encourages me to try new designs and yarns! The colors, textures and different weights of yarn will jump out at me and even though I might have an idea in my head, it becomes more real when I can see the yarns. Now, I will never ever say I have enough yarn– and my husband knows that. Ha!
Also, my family inspires me. They know my passion for crocheting and even when we shop in the mall, they'll bring a jacket or a fabric headband and say– look at this! I am a huge fan of magazine clipping! I have a 3 ring binder with taped down ideas from sales papers, store ads and what others would call 'junk mail'. I love to see what's in season and what's in store for the next! I also have a separate notebook that I jot down my ideas and sketch them out so that I can return to them when specific inspiration hits!
S: Do you use your children as models for your crochet patterns?
K: Yes, all the time! My kids' ages range from 5 year old twins to 14 and 16 year old daughters…. I never miss that opportunity to use them. Plus, they love seeing their photo online!
S: Do you have a favorite color, yarn brand or yarn weight to use in your designs?
K: One? I have to pick JUST one? Right now I would say it is Yarn Bee, "Hint of Silk" in Oriental Teal. It's so luxurious! It is 85% Bamboo and 15% silk. It is classified as a weight 4 yarn, but to me it is on the thinner side of the scale. However, it's perfect for clothing, hats and the new baby–it's SO SOFT! If you were to ask me last week, I would have said Red Heart Soft in purple…. I can never pick JUST ONE!
S: What does RAKJ stand for?
K: Have you ever tried to pronounce RAKJ? Well, I'm sure you had a tongue twisting try and made some sneeze-like sounds….but it's actually pretty simple: R-A-K-J. It is our family initials! Ryan, Allison, Kristi, Kim, Jason, James and Jacob!
S: What else can you tell us about your Mommy & Me Crocheted Hats book?
K: The book was a blast to design. I not only managed the patterns in this book but also the photography. It was amazing to have every day people model the hats. I mean, not only models wear them! I enjoyed the 'almost candid' theme, and it was so much fun! Not only photographing the hats, but seeing the mom and child (or sometimes grandma or dad!) playing together and being sweet! It is something that I will always remember. I hope the photos make you smile and giggle… and inspire you to make a few sets for you AND your friends and family!
Well, that's it for the interview with Kristi. I hope you enjoyed getting to know Kristi a little bit. I definitely enjoyed interviewing her! I look forward to many more wonderful designs from Kristi in the future.
I can't imagine having a career AND raising 5 kids! My 3 sons are grown and out on their own now. My life was very busy while my husband and I were raising them, with all of the things they did in school, sports, Boy/Cub Scouts, church and more! It makes me dizzy just to think about my crazy, busy schedule back then!
As promised, here are photos of some of my favorite hats in Kristi's new book (and a photo of the cover of the book, too):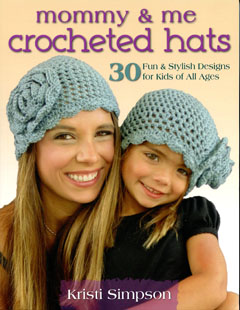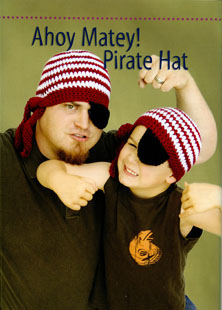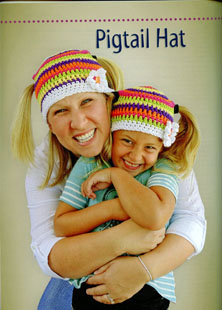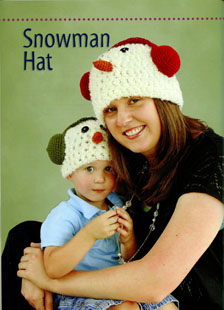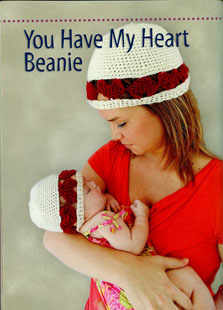 Wouldn't the pirate hat be great to wear on National "Talk Like a Pirate Day"? And what little boy doesn't want to have a beard? I think the Elf hat is really cute. It could be made with red and white for a Santa hat without the added chain spaces in the last round of the hat. If your little girl (or a little girl you know) likes to wear her hair in pigtails, then the pigtail hat is perfect (with holes to poke the pigtails through)! Since I LOVE snowmen, the snowman hat is great, especially with the ear muffs! And if I had a baby girl, I'd definitely want matching heart beanies for us!
These hat patterns come in multiple sizes and different skill levels, so there's something for everyone. And with 30 hats to choose from, you're sure to find some hats that you'd like to make. The book retails for $19.95 in the US and $22.95 in Canada.
You can see all of the hats/projects in this book on the Stackpole website here.
Happy crocheting,
Susan