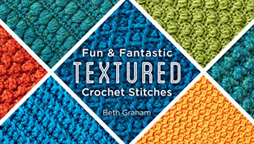 I love learning new crochet techniques and stitches, don't you? Earlier this month, I watched a new Craftsy class called "Fun & Fantastic Textured Crochet Stitches" by Beth Graham. I think this is a really nice class, especially for those who don't know some of the textured crochet stitches out there, like front and back post dc and tr, bobbles, puffs, popcorns and lots more. I know how to do most of these stitches, but I learned a few new things myself from the class!
When I first started watching the class, my first impression was that Beth portrayed enthusiasm and knowledge! She remained enthusiastic and knowledgeable throughout the class. I've never met Beth in person, but we've corresponded through e-mails and social media for a few years. She's actually married to one of my cousins in Canada! One of these years, we must meet in person!!! In her Craftsy video class, Beth is patient and explains everything she's doing. She shares lots of great tips on how to make your projects more successful, too!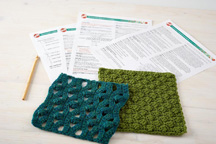 Like most Craftsy classes, there are 7 lessons in this class. Beth teaches 16 stitches, or variations of stitches. The basic stitch categories are: Effortless Texture, Puff Stitches, Bobble Stitches, Popcorn Stitches, Post Stitches and Elaborate Texture. Beth starts with the easiest textural stitches at the beginning of the video and ends with the most complex textural stitches. In the class, Beth demonstrates where to insert your hook to create each of these textured stitches, like working in the front or back loop, around the post of the stitch, in the chain spaces, in the back bump of the foundation chain and more.
Every textural stitch that Beth demonstrates has a stitch sampler square pattern included in the class. You can have fun practicing these stitches while making each 7 ½" square and join them all together when you're done to make an afghan, if you wish. Or you can make dishcloths out of some of them. But either way, it's nice to practice on something this small instead of committing to a large project, especially when learning something new!
I found a few stitches in the video that Beth called a different name than I do. But that's fine because they're worked the same way! As in most crochet projects and instructions, the same stitch can be called something else, depending on the person who's naming it or what book it's in. Several years ago, I learned the "berry stitch" from the "365 Crochet Stitches a Year" calendar by Jean Leinhauser and Rita Weiss. I noticed that Beth calls this stitch a "picot sc". So I did a little research online and found that Tamara Kelly of Moogly also calls this a "picot sc". No matter what you call a certain stitch, it's great to know lots of crochet stitches and be able to use them to their best advantage!
Once you've mastered the textured stitches in the class, you'll probably want to crochet the class project, which is the Playful Textures Scarf & Cowl. I love this project! It has such nice textures and is symmetrical, which appeals to me! The scarf and cowl are crocheted the same, but if you want yours to be a cowl instead of a scarf, then you'll seam the 2 short edges together.
For more information about this class, check it out on the Craftsy website here. The class is regularly $29.99, but it looks like it's discounted to $19.99 today! I think it's a bargain at either price!
I hope you've enjoyed my review of this new Craftsy crochet class and that you're inspired to learn more in 2016!
What crochet techniques do you want to learn this year?
Until next time…
Happy crocheting,
Susan