Are you someone who loves decorating for Christmas? Do you love to make your own ornaments? I've been making Christmas decorations and ornaments for as long as I can remember. I really love crocheting ornaments for our tree, especially with cotton crochet thread. Christmas ornaments bring back such wonderful memories, especially the ones that my 3 sons made at school and church when they were growing up. My sons have all grown up and moved out now, but I still love the ornaments they made. However, we've downsized our Christmas tree and I have an abundance of ornaments that won't fit on our smaller tree! So what's a mom and crafter to do? Well, I guess I have to pick my favorite ornaments and/or rotate them each year so I can enjoy them anew each year. Or if I had more time and energy, I could buy several more small Christmas trees and have more than one decorated tree in the house (or buy a bigger tree again)! I learned long ago that I'm allergic to real pine and fir trees, so we only use an artificial tree in our house. It's not quite as nice as a real tree, but it's better than the misery of the allergy symptoms I suffer if we have a real tree!
Last night, my husband helped me put up and decorate our small Christmas tree (it's only about 4 feet tall at the most). Yes, it's kind of late in the season (only 9 days before Christmas), but better late than never! Since we don't have any little ones at home any more, there's not as much incentive to decorate for Christmas as there was when they were growing up.
Here is our decorated Christmas tree this year: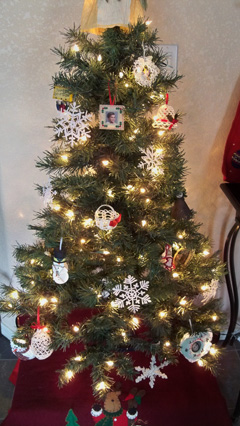 It's not the nicest tree and I'm not the best Christmas tree decorator, as you can see! I'm more of a minimalist when it comes to decorating a Christmas tree, I suppose. But I enjoy seeing the Christmas tree in our living room just the same.
Here are some of the handmade ornaments on our Christmas tree this year: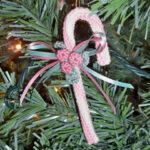 As you can tell, I like snowflakes and snowmen! Can you tell that one of the snowflakes is tatted, not crocheted? I tatted that one many years ago. I like Victorian ornaments, too. I crocheted the 3 Victorian ornaments from the Leisure Arts leaflet, "Victorian Thread Ornaments" by Anne Halliday (she's one of my favorite crochet designers!). Years ago, I held an ornament exchange with a bunch of friends. I held it for 3-5 years, so I have some really nice handmade ornaments from my friends over the years. It was a ton of fun! We would each make a different style of ornament, making one for each of that year's participants. Then we'd get together one night before Christmas and exchange them with each other. Most of those ornaments are in the box of handmade ornaments because they won't fit on our current small tree. If I could, I would decorate a whole tree with just those handmade ornaments that we swapped over the years (but I'd need a larger tree to fit them all!).
I've made a bunch of Christmas decorations over the years, too. This is the Christmas manger scene that I made from fabric a very long time ago: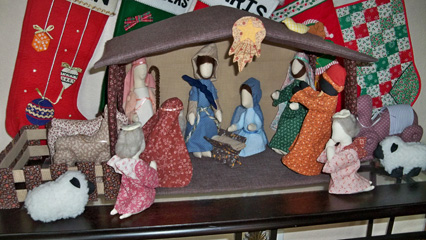 I made this from a pattern in a book/leaflet. I used fabrics, fiberfill, craft hair, cardboard, ribbons and fabric-covered buttons (for movable joints). Here's a closer look at Mary, Joseph and baby Jesus: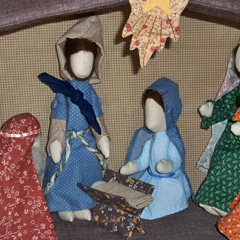 This set includes the 3 wise men, a shepherd, 2 angels, 2 sheep, a donkey, a cow and a camel. It doesn't look as good as it did when I finished it, but it's not too bad for a 15-20 year old decoration!
I love stiffened crochet snowflakes. I think they turn out wonderful and look fabulous on the tree, especially since the white of the snowflakes contrasts so nicely against the green of the tree. And there are so many nice crochet snowflake patterns to choose from, too. If you're interested in giving crocheted snowflakes a try, check out my blog post from last December here. And you can also check out my tutorial on stiffening crocheted snowflakes here. One thing I'd like to stress in this tutorial is to remember to include a large enough hole on one of the points of the snowflake when you're stiffening it so you can insert the hanging wire or thread! Why do I say this now? Because I realized I didn't leave a big enough hole in some of the snowflakes I stiffened last year! OOPS! I suppose I could have forced the hanging wire into the snowflake, but I didn't want to mess up the snowflake, so I set those snowflakes aside for another day/year.
I'm sure many of you have made some Christmas ornaments and decorations over the years. What kinds of Christmas ornaments and decorations have you made? Which are your favorites?
I hope you and your family have a wonderful Christmas this year!
Happy crocheting,
Susan