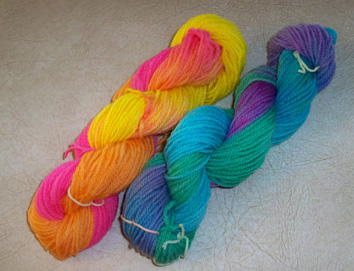 Last year, before Easter, I was reading some posts in some Ravelry groups about dyeing yarn with Easter egg dyes and Kool-Aid. So I thought I'd give it a try. What did I have to lose? Absolutely nothing! And I figured it would be a lot of fun, which it was! I'd like to tell you about my yarn dyeing experience, in hopes that you'll give it a try, too.
Before starting, I read all the information I could get from library books, Ravelry groups and various websites, some of which were:
http://www.dyeyouryarn.com/easter-egg-dye.html
http://www.dyeyouryarn.com/Kool-Aid-dyeing.html
http://www.examiner.com/list/dyeing-yarn-with-easter-egg-coloring?cid=db_articles
Everything I read said to purchase the Easter egg dyeing kits AFTER Easter, when they are discounted. I waited patiently for Easter to come, so I could visit my local stores and buy the kits for pennies on the dollar! But I had to make sure I didn't wait too long because they might be all gone (either sold out or shipped back to clear the shelves for new merchandise). I went to the store the day after Easter to buy my first batch of dyes and I bought more on subsequent days, as well. I bought several different kinds of kits with different numbers of dye tablets in them from several different manufacturers. I didn't need all the bells and whistles in the fancy kits, so I bought the more generic kits instead, which were also less expensive. The kits I bought the week after Easter were 50% off and the ones I bought the following week were 75% off, so it was well worth the wait!
Approximately 2 months after Easter, I was finally ready to begin my yarn dyeing experience! If you'd like to ready about how I dyed this yarn and learn how to dye yarn with Easter egg dyes, check out my tutorial here. Because of the length of this tutorial/story, I have made it into a PDF file to download and read at your convenience.
I designed a crocheted scarf and a knitted scarf with my newly dyed yarn last year, but I'm not quite ready to publish them yet. Since I'm a perfectionist, I hate to rush into publishing patterns that haven't been checked thoroughly because it's too easy for mistakes to creep in. And it's not fair to you to find mistakes in my patterns, which leads to frustration (believe me, I know how frustrating it is to try to crochet something from a pattern with mistakes!). I'll let you know when the 2 scarf patterns are available for purchase. The crochet and knit scarves are both done in the mosaic technique, which is a technique that I LOVE!!! I used a solid color of yarn along with the dyed yarn because I hate color pooling with multi-colored yarn! The solid color eliminated any possibility of color pooling and the scarves turned out great!
I hope you enjoy my new tutorial on dyeing yarn.
Have a blessed Easter with your family and friends.
Happy crocheting,
Susan
P.S. I'd like to apologize for not posting free crochet patterns on the last 5 days of March, like I had promised at the beginning of the month to celebrate National Crochet Month. I had a death in my family (my brother passed away at 59 years young from stage 4 brain cancer that was originally thought to be a benign tumor). But I hope you've enjoyed the 26 free crochet patterns that I was able to post during the month. There are some really talented crochet designers out there!