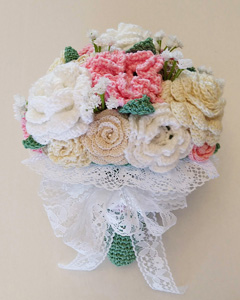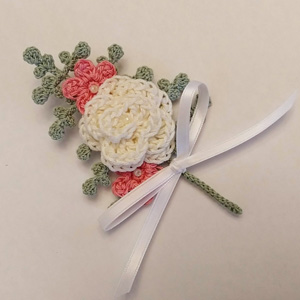 This crochet bridal bouquet & boutonniere are sure to be a hit with the bride and groom! They are fun-to-make and help to stretch the wedding budget!
These pieces can be customized for any wedding. I used colors to coordinate with my daughter-in-law's dress, but you can use any colors you desire for yours.
This 20-page pattern includes many photos, a specific list of all the materials I used to make these floral pieces and step-by-step assembly instructions to make your own floral pieces. The pattern also includes specific instructions to crochet the covered Styrofoam pieces (half ball and cone), as well as the leaves on the bouquet. I stiffened the fern on the boutonniere with wire, which I explain how to do in the pattern for your boutonniere. You may crochet and stiffen your fern, as I did, or use an artificial fern in your boutonniere.
PLEASE NOTE: This pattern does NOT include specific instructions for making the flowers and fern. I used some free and some paid flower and fern patterns for my floral pieces. Because of US copyright laws, I cannot include the written instructions for these copyrighted patterns. I have, however, included information, photos and links where you can find the patterns that I used (for free and for sale), if you'd like to use the same ones. You may choose to use the same patterns or find other flower and fern patterns that you like.
FINISHED MEASUREMENTS:
Bridal Bouquet: Approx. 8" wide x 9" high
Boutonniere: Approx. 3" wide x 5" high
SKILL LEVEL: Intermediate
MATERIALS:
Sizes 10 and 3 cotton crochet thread
Fine (#2) weight yarn
Sizes 5 (1.9 mm), D (3.25 mm) or E (3.5 mm), 7 (4.5 mm) or H (5 mm) crochet hooks
Too many other materials to list here!
Bridal Bouquet & Boutonniere
Average rating:
0 reviews