Welcome to The Crochet Architect website. Isn't National Crochet Month wonderful? It's great to celebrate a month each year full of crochet goodness!!!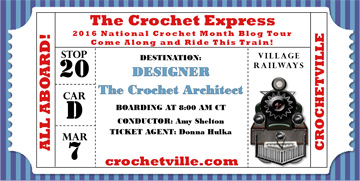 As you can see from my ticket above, today is my day to blog during the Crochetville National Crochet Month Blog Tour.
If we haven't met, yet, my name is Susan Lowman. I've been crocheting since I was a teenager, back in the 70's! I love to create anything with my hands, as I'm sure you do, too. I've done lots of crafts throughout my life (many since I was a child), including counted cross stitch, tatting, paper crafts and wood crafts, but I always come back to crochet! I've been designing crochet patterns since 1999 and I've been a member of CGOA (Crochet Guild of America) since 2002. I was on the CGOA Board of Directors for 3 1/2 years and I served as co-chair of the CGOA Masters program, as well as a CGOA Masters Senior Portfolio Reviewer for 3-4 years. For more information about CGOA and the CGOA Masters program, check out their website here.
I also love to teach crochet whenever I get the chance. I've taught at many CGOA Conferences and at last year's Annie's Craft Festival. I'll be teaching again at this year's CGOA Conference in Charleston, SC in July! The conference details should be up on the Knit and Crochet Show website sometime this month. You can read about all the classes and events here. TKGA (The Knitting Guild Association) has their conference at the same time, so you can take crochet and/or knitting classes at the conference! It's so fun to meet other crochet enthusiasts and to share my love of crochet with them at the conference! I'd love to have you in any of my crochet classes and get to know you. If you ever feel like you're the only crocheter around, the conference is a breath of fresh air where we all speak the "language of crochet"! It's a great time to meet other crochet enthusiasts and to make new friends!
In the past, I did a lot of technical editing of crochet patterns before they're published (to find and fix the errors). One of the companies/magazines that I worked for was Crochet Today magazine. I enjoyed working for them for almost 6 years and helping that magazine be successful. Unfortunately, Crochet Today was cancelled 2 or 3 years ago (boohoo!). I haven't done much technical editing lately because I'm focusing on self-publishing my designs now and not being quite as busy as I was in past years (to reduce the amount of stress in my life and live healthier).
I have plans to start recording some crochet videos this year, too! If there is a particular crochet stitch or technique that you'd like to learn, please let me know and I'll add it to my list of videos to make. I love watching crochet and knitting videos to learn new techniques, whether they're paid or free videos. Speaking of paid videos, I have 2 crochet videos with Annie's. They're "Learn to Crochet with Thread" and "Beginner's First Doily". Thread crochet is very enjoyable for me (and for lots of other crocheters I know). I LOVE to crochet doilies! I think it's because the stitch pattern changes in just about every round, which helps keep my interest and challenges me! Don't get me wrong. Plain stitch patterns (aka: mindless crochet projects) have their place, but unless I'm watching TV or attending a local crochet group, I like to have a challenge! And doilies come out so nice after they're blocked. It's almost like they transform into something even more beautiful! I've probably crocheted over 100 doilies in my life (maybe even more than 200 doilies)!
Anyway, enough about me! This is National Crochet Month (yahoo!). To celebrate, I have 2 special offers for YOU for the rest of this month (March 7 – 31).
First, I have a new FREE crochet pattern for you as a "thank you" for visiting my blog. It's my Luck o' the Irish Scarf. It's free for the rest of this month. After that, it'll be $3.95.
This scarf is made with one skein of Caron Simply Soft yarn. I'm not sure of the exact shade of green that I used because it came straight from the Caron office/factory years ago when I was designing my Majestic Butterfly Afghan (you can see that afghan on Ravelry here). Some of the skeins of Simply Soft had yarn labels on them and others didn't, so I had to guess what colors they were! The shade of green that I think I used in this scarf was discontinued since then! Anyway, you can use whatever shade of green (or even another color) to make your scarf.
The stitch pattern in this scarf is a 4 row repeat, so it's easy to memorize (especially since every other row is "sc in each st across"!). The pattern includes written instructions and a symbol crochet chart, as well as step-by-step photos for making the 4-dc cross stitch (many of my self-published patterns include symbol crochet charts and step-by-step photos, too). This scarf has a simple sc edging to give it a finished look. I hope you enjoy this free pattern and will share photos of your finished scarves with me when you're done. If you have any questions about the pattern, please don't hesitate to ask! I'm just a message or e-mail away! I want my customers to be successful with their projects and I'm always happy to answer questions about my patterns.
The 2nd special for the rest of this month is 25% off the price of ALL crochet patterns on my website (with code "NatCroMo2016"). Whether you enjoy crocheting accessories, jewelry or home decor items in filet crochet, wiggly crochet, crochet that looks like tatting, or regular crochet, there's something for almost everyone in my pattern store. If you haven't heard of wiggly crochet, I have a wiggly crochet tutorial on my tutorial page to help YOU be successful with wiggly crochet. I love to design and crochet items with lots of color, so please take a look around and take advantage of the sale prices while they last!
I hope you're enjoying National Crochet Month and the Crochetville Blog Tour. There are many talented designers taking part this year. I trust you'll find something that will inspire YOU to create a WORK OF ART!!!
To learn more about the festivities, freebies and giveaways going on all this month to celebrate National Crochet Month, check out this Crochetville blog post. You can also follow the National Crochet Month blog tour on their Facebook page and on Crochetville.com.
If you'd like to follow me on social media, you can find me on Ravelry here. I also have a group on Ravelry to discuss my patterns, hold CAL's and all kinds of other fun here. I'm holding a CAL for my Crochet Mosaic Scarf this month and I'd love to have you join us in this CAL (or other CAL's I hold in my Ravelry group).
I look forward to meeting you and sharing our common love of crochet! It's great to learn from each other and to encourage each other along our crochet journeys!
Happy crocheting,
Susan Lowman
P.S. If you'd like to follow my blog, simply subscribe to my blog with your e-mail address near the top right-hand side of this page. I don't write blog posts all the time. I aim to post once a week. Sometimes I miss a week for various reasons, but I promise you won't get inundated with e-mails from my blog posts!