Who doesn't love the new year? It's a chance to start afresh and take a look at what's important in life. I love to make goals for myself, even if I don't achieve all of them! At least I'm moving in the right direction! Here are my 4 business goals for 2016:
Film some crochet videos and start a YouTube channel. I've been wanting to do this for quite some time, but never seem to make it a priority, so I haven't even started on this goal. But I hope that 2016 will be different and that I'll take the plunge into filming some crochet videos for others to enjoy and learn from to help increase crochet knowledge and skills throughout the world! I love to share my crochet knowledge with others and to encourage them, so this is a good way to do that (in addition to teaching classes in person)!
Publish 12 new crochet/knitting patterns. This is a big goal for me because my track record on self-publishing patterns isn't this high! I only published 9 patterns last year and 4 this year (this year was hard because of the loss of my brother, getting a new puppy and taking a 2 1/2 week trip to China to visit our son and DIL). But I'm aiming to make this goal a reality by taking good photos of these 12 projects this weekend so I'll be one step closer to achieving this goal! I have at least 12 new crochet/knitting patterns that are almost done, so I should be able to meet this goal (and possibly exceed it).
Blog weekly. Wow! This goal is also a big one for me because I have fallen short of this many times! But at least I get back up on the horse (or the blog) to try again! I will try a few different ways to schedule blogging into my life and see which one works best to stay on track with this one! Obviously blogging when I feel like it is NOT working! My emotions are way too fickle and I fall into slumps quite often!
Start and run a Ravelry group. This one is actually already started/done! Yesterday, I started a group on Ravelry to discuss my crochet and/or knitting patterns (and crochet in general)! And I have some friends who have already joined! Woohoo!!! I've had this goal for at least a year and I decided to stop putting it off. In the words of Shia LaBeouf, "JUST DO IT"!!! If you'd like to join this Ravelry group to ask questions about my crochet/knit designs or to simply discuss crocheting, you can find the group here.
I also have some personal crochet/knitting goals for 2016. I want to learn to do mosaic crochet in the round and brioche knitting next year. I have the books for both of these techniques, so I just need to make the time to learn them. I already know how to do mosaic crochet in rows, but not in rounds. I love teaching this technique because it's so fascinating to see the design start to emerge with each new row that's worked! Here's a photo of a mosaic crochet project: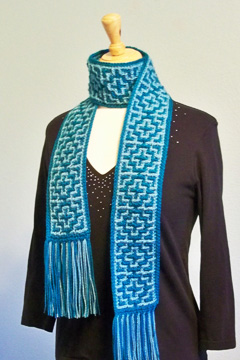 This is my mosaic crochet scarf pattern. This scarf is worked in rows with no ends to weave in because the ends are all turned into fringe when you're done crocheting it! Mosaic crochet is worked with only 1 color of yarn in each row, so you don't have to change colors across the rows. I LOVE this technique because I LOVE geometric patterns and it's really fun to do! Here's a photo of the mosaic crochet project worked in rounds that I want to learn to do in 2016: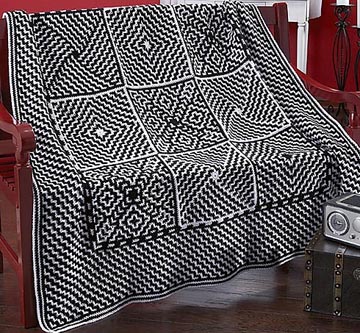 This afghan is called "Sudoku" and the pattern is found in a leaflet called "Herrschners 2014 National Afghan Contest Winners Crochet Afghans". You can find that leaflet for sale on the Herrschners website here. They also sell a kit to make the afghan here. I don't know if I'll take the time to make the whole afghan, but I'd like to make a few of the squares to learn how to do mosaic crochet in the round instead of in rows! The square in the center of the afghan looks the most interesting to me!
If you're not familiar with Brioche knitting, it creates a thick knitted fabric that looks so intriguing! I have a book on Brioche knitting, as well as on the Twigg Stitch, which is Brioche knitting "on steroids", as far as I'm concerned! Both of these knitting techniques should provide a good challenge, but I need to make sure that I'm having a good thinking day and not too many distractions to learn them (they seem intense to me as a fairly new knitter)!
So there you have it! I may change some of these goals throughout the year and possibly add to them, but at least I have a "plan of action" to move forward instead of stagnating!
What are some of YOUR crochet goals/resolutions for 2016? What new crochet and/or knitting techniques do YOU want to learn next year?
Happy crocheting,
Susan