A few weeks ago (on January 10 and 11), I attended the TNNA Trade Show in Phoenix, AZ. If you've never heard of TNNA, it stands for "The National Needlearts Association". You can read all about TNNA here.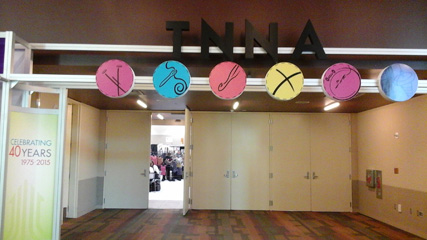 It was a great show! There were hundreds of booths filled with yarn, crochet hooks, knitting needles, books and lots of knit and crochet garments to drool over! It was "eye candy" for creative people! There were also needlepoint companies there. I used to do some needlepoint and counted cross stitch in the 80's and 90's, but I don't do it anymore. I'm having too much fun with crocheting and knitting now!
The TNNA Trade Show is for people who are professionals in the needle arts industry to show their products to other companies looking to purchase their products. There were lots of yarn shop owners there, as well as magazine editors and designers. I attended the trade show to see the different yarns up close and to speak with the yarn company owners/reps in person. I submitted a book proposal to a publisher a few months ago and I wanted to see some of the yarns that I might be able to use for the book. I also wanted to meet the people from the yarn companies face to face.
I saw many other knit and/or crochet designers there: Brenda Bourg, Linda Dean, Karen Whooley, April Garwood, Andee Graves, Melissa Leapman and Michelle Hunter. And I also saw Marcy Smith, the editor for Interweave Crochet in one of the yarn booths. I had lunch with Kj Hay, a fellow knit and crochet designer and a good friend of mine one day, too. Unfortunately, I didn't take any photos with any of my friends (I guess I was too preoccupied with the gorgeous yarn to remember to take photos!).
In one of the booths, I met a lady named Bonnie Bishoff. Bonnie is an artist who creates beautiful shawl pins from polymer clay. Here are a few pictures of Bonnie in her booth, along with her shawl pins:
And here's me wearing the beautiful leaf shawl pin that I bought from Bonnie at TNNA on Sunday: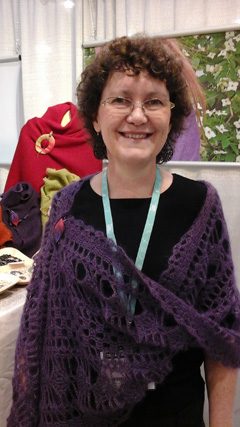 This shawl pin is so pretty and will coordinate with a lot of the knit and crochet shawls that I've made over the years!
Of course, the shawl pins are even prettier in person than in these photos! You can see more of Bonnie's designs on her website here. Bonnie's shawl pins are available at many yarn shops around the US. To see if your local yarn shop carries Bonnie's shawl pins, check out this page.
I met some new people at the trade show, too. One of them was Erin Slonaker. About 9 years ago, I worked with Erin when I was tech editing crochet patterns for Crochet Today magazine. Erin was the assistant editor, along with Brett Bara, who was the editor of the magazine. Now Erin is the editor in chief of Yarn Market News, a magazine for people in the yarn industry. I didn't get a photo of Erin, either. Darn!
Another new person who I met there was Trisha Malcolm. Trisha is the editorial director of Vogue Knitting magazine. I just had my first knitting design published in the Winter 2014/2015 issue of VK, so I was excited to meet Trisha! Here we are in the Vogue Knitting booth on Sunday afternoon:
Unfortunately, the shawl I chose to wear that day grew on me while I was wearing it. It ended up getting stretched out and hanging pretty low by that afternoon! I think I'll be more careful how I wear this shawl in the future!!!
All in all, I had a great time at the TNNA trade show! It was great to see old friends and to make new ones, too! And it was wonderful that the show was so close to home!
Speaking of close to home, the Knit & Crochet Show (aka: CGOA Conference) is going to be held in San Diego, CA this July! I hope to see many of you there and to meet some more new friends! To find out more about CGOA and the annual CGOA conference, go to their website here.
Happy crocheting (and knitting),
Susan