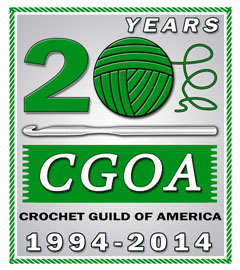 Don't you just love learning new crochet stitches and techniques? I do! And I love teaching others new stitches and techniques, too.
I'm very excited to be teaching classes at the CGOA (Crochet Guild of America) Conference this year! This conference is special because 2014 is the 20th Anniversary of CGOA!!! This year's conference will be held from July 23 – 27 at the Radisson Hotel in Manchester, NH, where we've had the conference many times before.
The 3 classes I'm teaching are:
1)      Tatting the Old-Fashioned Way on Thursday, July 24 from 9 AM – 5 PM
2)      Simplifying Symbol Crochet on Friday, July 25 from 9 AM – noon
3)      "Faux" Tatting Crochet Necklace on Sunday, July 27 from 9 AM – noon
You read that right, I'm teaching tatting, not crochet for one of my classes! From time to time, we have a few classes that are similar to or related to crochet and knitting, but not crochet or knitting. In 2011, the fall conference was in Greensboro, NC and Maggie Weldon taught a class on lace pottery. I took that class and LOVED it! My pottery didn't turn out as nice as hers, but I learned a lot and thoroughly enjoyed the class! Since Maggie lives near Greensboro, she took our class projects home the first night of the class and fired them in her kiln. Then she brought them back the next day and we finished them up in the 2nd half of the class. You can see Maggie's amazing lace pottery on her website here. I absolutely LOVE her lace pottery!!!
There have been some classes taught at the conference on making buttons from Fimo clay, too. Of course, many crochet and/or knitting projects use buttons, so buttons are related to the needle arts!
Okay, back to my tatting class. I'll be teaching shuttle tatting in this class, not needle tatting. If you've always wanted to learn to shuttle tat, I'd love to have you in my class. You'll learn everything you need to be successful in tatting, from how to wind the shuttle through making rings and chains to create your first tatted piece. Two tatting shuttles are included in the class fee, so you'll only need to bring the appropriate sizes of crochet thread, along with an eagerness to learn! If you want to take this class, please sign up early because this class fills up quickly and I've limited it to only 20 students. Here's a look at the tatted necklace you'll be making (starting) in the class:
In my Symbol Crochet class, I'll teach my students how to read and follow symbol crochet charts, which are much easier than following a written crochet pattern. We'll read and follow charts for projects in rows and in rounds. Once you can read and follow a symbol crochet chart, you'll be able to make anything you want, even Japanese, Russian, Ukrainian or Spanish crochet patterns with crochet symbols, without having any knowledge of the language! Here are some crochet symbols that you'll learn in the class:
I love making crocheted jewelry and my Faux Tatted Necklace is one of those pieces of crocheted jewelry that I love to make! I designed this necklace about 5 years ago to look just like the tatted necklace that is part of my shuttle tatting class. But you don't need to know how to tat to make the necklace in this class! The necklace is crocheted with size 10 crochet thread and approx. 23 buttons, beads or charms of your choice. I think it looks great! I've made many of these necklaces in various colors to go with different outfits in my wardrobe. The wonderful things about the necklace are that it's completely washable and there's no clasp to fiddle with, since the necklace is big enough to go over your head! The class fee covers the cost of the pattern. You choose (and bring) the thread color and buttons, beads or charms that you'd like to use for your necklace. Here's one of the necklaces that I've made:
If you've never been to a CGOA Conference (aka: Chain Link Conference or Knit & Crochet Show) before, you don't know what you're missing! It's a fabulous time to meet other crochet enthusiasts. You'll learn more crochet techniques and stitches to further your crochet skills and knowledge at the conference and come away with many new friendships to last a lifetime! Check out the full schedule of crochet and knitting classes here.
If you're not a CGOA member, yet, there's no time like the present to join! Just go to the CGOA website and check out everything that CGOA has to offer! It's wonderful to belong to an organization that is dedicated to furthering the art of crochet!
Happy crocheting,
Susan