Last month, my husband and I took a 3 ½ week trip in our motorhome from Arizona to Texas and back. We met up with some good friends, Dan and Janine, for the first part of the trip and had a great time! We did lots of sightseeing, ate delicious food, did some walking and hiking, met up with an old friend, Kathy, and her husband, Randy, did lots of driving (my husband drives the motorhome while I crochet) and all around had a great experience! I even saw some crochet and other crafts on our trip!


Since we moved into our new home 7 months ago, we've been doing a lot of renovations (painting, decorating, etc). It was nice to get away from all the work, relax and see God's creation!


Here are the places we went and things we saw on our trip:


Benson, AZ – saw/toured Kartchner Caverns
Tombstone, AZ and Bisbee, AZ – walked around and saw the sights
Kerrville & Fredericksburg, TX – did some sightseeing and shopping
San Antonio, TX – did some sightseeing, went on a riverboat/gondola ride, toured the Alamo, ate dinner at the Chart House restaurant that revolves at the top of Tower of the Americas (a tower that was built for the 1968 World's Fair)
Houston, TX – went to the Space Center Houston and Houston Center for Contemporary Craft
Galveston, TX – toured the Bishop's Palace (the 1892 Josephine and Walter Gresham house)
McDade, TX – stayed at Hummers Homestead Alpacas (a Harvest Host)
Austin, TX and Moody, TX – stayed and hiked at 2 Texas State Parks
Waco, TX – went to Mammoth National Monument and Magnolia Farms (Chip & Joanna Gaines from Fixer Upper HGTV show fame have a very nice area in Waco for shopping, relaxing, eating and playing outdoor games)

Here are the crochet/crafting highlights of the trip:


These are some cute crochet baskets that were at Magnolia Farms in Waco, TX. I think the same baskets that are on display on shelves are hung on the walls. Basically, from what I can see, the baskets are crocheted with rope and include a handle. I think they're very cute (and stylish)! I've got some yarn that might work really well to crochet some of these beauties for my new home!!!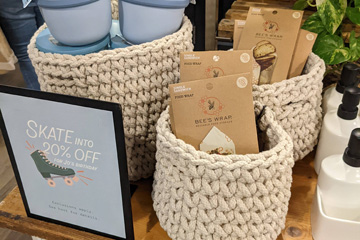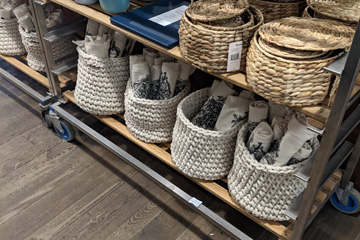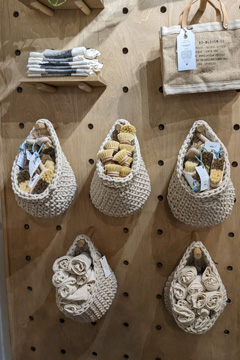 This was a display at the Houston Center for Contemporary Craft. This was a free museum filled with crafts that are made from reclaimed/recycled materials. The display was called "Nothing Goes to Waste". I thought this display, made with film slides, was absolutely awesome! So creative!!!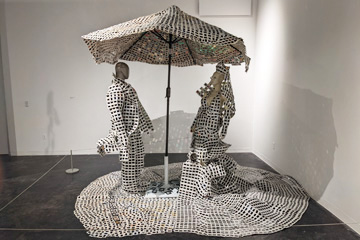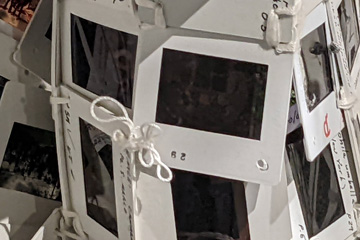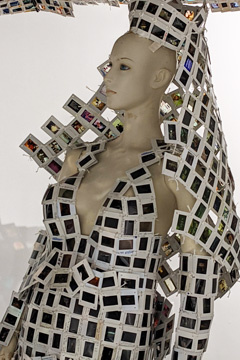 Here's a hyperbolic crochet piece on display at that museum. I've never done hyperbolic crochet before, but this is what it says online about it: "To crochet a hyperbolic structure you simply increase stitches at a regular rate in every row. The more often you increase, the more quickly the model will ruffle up."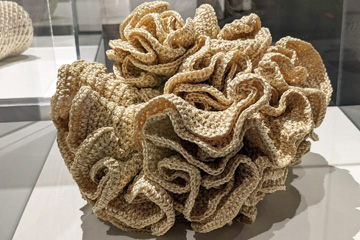 This piece of art was crocheted with 8mm film strips! Wow!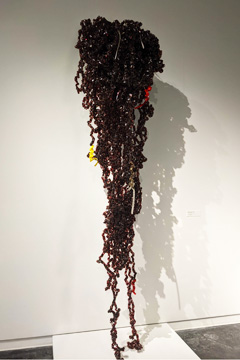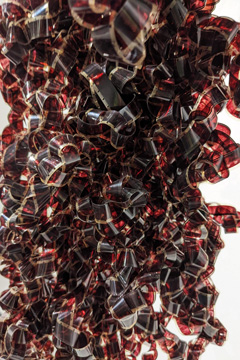 Here are a crochet popcorn bedspread and a quilted bedspread that I saw in the Bishop's Palace in Galveston, TX, along with the beds that these bedspreads were on.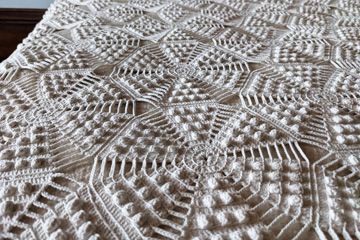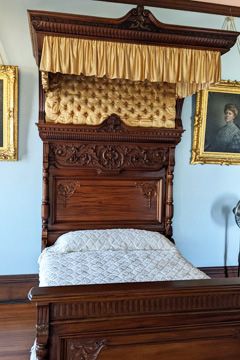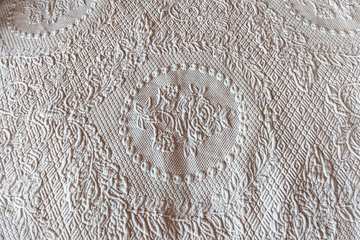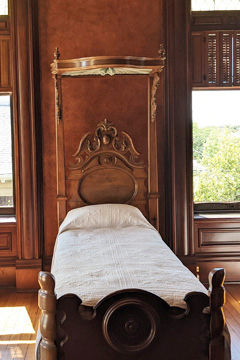 Here is a crochet piece that was on the ornate dresser at the Bishop's Palace, along with the dresser that it was on.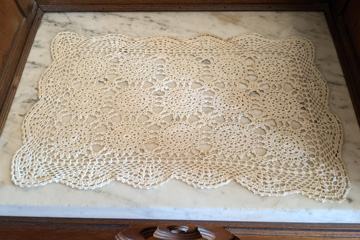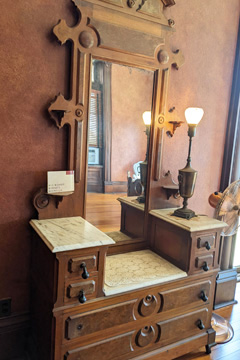 This is an embroidered piece with a bobbin lace edging that I saw at the Bishop's Palace.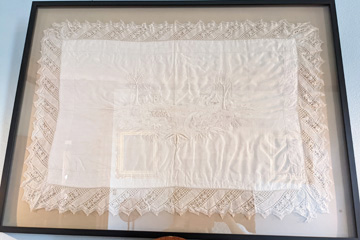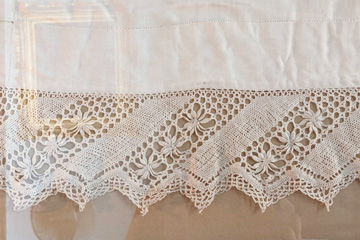 And this is the front of the Bishop's Palace. It was an awesome place with lots of wood in the interior and lots of history!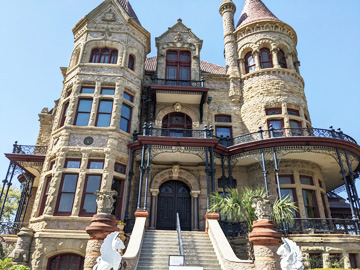 These are some of the alpacas that we saw at Hummers Homestead Alpacas in McDade, TX.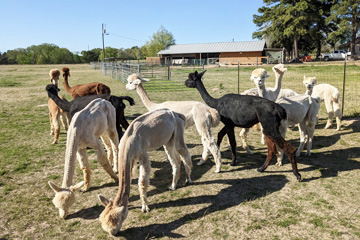 And this was the inside of their alpaca products store. They're part of Harvest Hosts, which is a membership group where you reserve a spot at a participating host to stay in your RV for a night or two. In exchange for a spot to stay, you patronize their establishment. I bought 5 ounces of alpaca roving to spin on my Electric Eel Wheel spinning wheel (once I work up the courage to spin alpaca fiber)!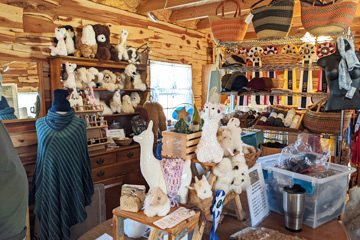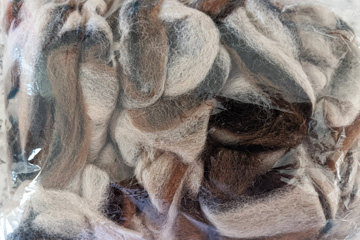 Here are a few other highlights (not craft-related):

While we were in Texas, we saw lots of bluebonnets blooming. They were everywhere and we loved them! In case you didn't know, they're the Texas state flower (and snakes like to hide in them).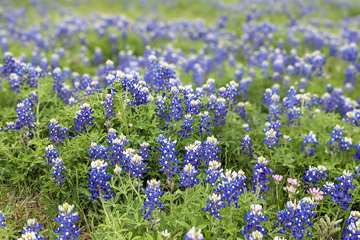 This forest photo was taken at McKinney Falls State Park. This was our favorite place where we stayed during the whole trip!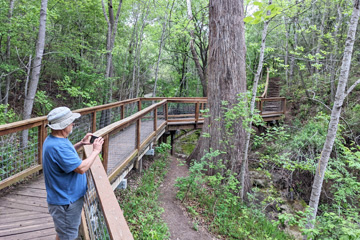 It was really nice to get away, but it's nice to be back home, too!


I hope you enjoyed this look at our trip and all the crafts I saw while on our trip.


Happy crocheting, crafting and traveling,
Susan