Click here to submit your review.
---
---
Free Patterns
SKU
UPC
Model
AWESOME BABY BOOTIES
May 06, 2014
by
Marie Stewart
Accuracy: 100% •
Overall Satisfaction: I love this pattern.
This is the first pattern I have found to be exactly what I wanted plus to be so easy. I had never crocheted booties before and wanted to learn so badly. Well I have made 2 sets and learned in no time. They are so easy. Thank you.

Response: Marie,
Thank you for your kind words about my baby booties pattern. I strive to create designs that are fun to make and patterns that are error-free! I hope you will try some of my other patterns, too.
Happy crocheting,
Susan
---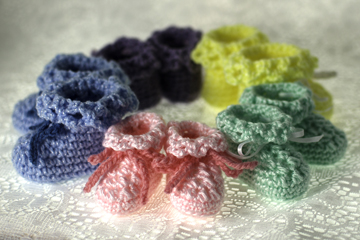 BABY BOOTIES  
MATERIALS:
Sport weight acrylic yarn, 45 yds main color and 5 yds contrasting color
Size G (4 mm) crochet hook (or size required for gauge)
xxxxx
SIZE: Approx 3″ long
CA-F03 Baby Booties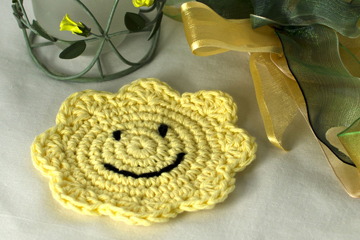 SMILING FACE COASTER
MATERIALS:
Worsted weight cotton yarn, 20 yds yellow, 1 yd black
Size I (5.5 mm) crochet hook (or size required for gauge)
Tapestry needle, Stitch marker
SIZE: Approx 4 3/4″ diameter
CA-F02 Smiling Face Coaster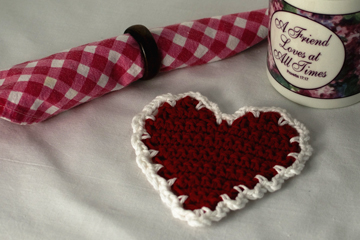 HEART COASTER
MATERIALS:
Worsted weight cotton yarn, 12 yds red,
4 yds white
Size I (5.5 mm) crochet hook (or size required for gauge) 2 stitch markers
xxxxx
SIZE: 4 3/4" wide x 5" high
CA-F01 Heart Coaster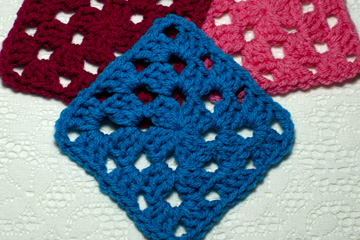 3-ROUND GRANNY SQUARE
MATERIALS:
Worsted weight yarn, 15 yds any color
Size I (5.5 mm) crochet hook (or size required for gauge)
xxxxx
SIZE: Approx 4.5″ square
CA-F04 3-Round Granny Square